By Alvin Alexander. Last updated: June 4, 2016
Mac Time Capsule backup FAQ: Can I use an Apple Time Capsule drive to make Mac backups, and as a Mac network share (drive)?
I now have a small network of Apple/Mac systems here at the devdaily.com world headquarters, and as I'm starting to feel the need for a network, I looked around the office, and lo-and-behold, I found my old Apple Time Capsule. Hmm, I thought, could an Apple Time Capsule work as a Mac network drive?
Setting up an Apple Time Capsule as a Mac network drive (network share)
It didn't take much to find out; I just opened the Finder on my MacBook Pro, navigated to my Apple Time Capsule device (see below), and created a folder on the Time Capsule named "Shared". I dropped 100 videos from my life in Alaska into the folder from my older MacBook Pro, and then picked them up from my newer iMac, and a short while later I had a decent video created in iMovie.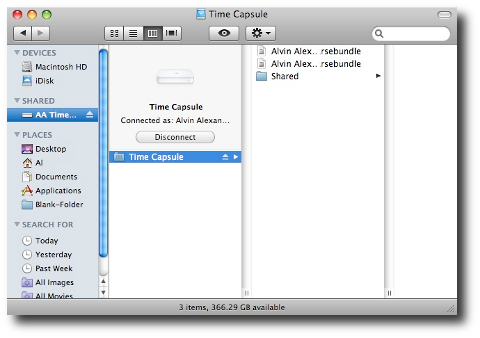 As you can see from that Finder image, I already use the Apple Time Capsule to back up my two Mac systems. You can see this when you look at the Time Capsule from the Mac Finder, where these Time Machine backups appear as files with the filename extension "sparsebundle".
Apple Time Capsule as a Mac network drive/share - summary
So far my Apple Time Capsule has worked well as a Mac network drive (network share). I'm not sure if it's an 'ideal' Mac network drive, but it works well for my limited needs.
The reason I say it's not ideal is that the Time Capsule seems to go to sleep when it's not in use, so there is a pause when I first access it after not using it for a while. That being said, it is ideal in that (a) it's already there, (b) it has plenty of free disk space, (c) I don't have to go out and buy another Mac network drive device.
I'll update this article with more information as I learn it, but so far, so good.
Apple Time Capsule as a Mac network share - update
It's almost four weeks since I first wrote this article, and I'm about to get away from writing for a little while, so I wanted to note that the Apple Time Capsule continues to work fine as both a Time Machine backup device, as well as serving as a Mac network drive/share that I can use for my Mac OS X systems. I haven't had any problems using the Time Capsule this way, and it really is a nice way to re-use a networked hard drive that you may already own.