By Alvin Alexander. Last updated: June 4, 2016
MacBook Air carrying cases and sleeves: I recently bought a MacBook Air, and while there are a lot of nice things about it, an unusual thing about it is that it creates a dilemma about how to carry the thing around. Do you use a sleeve, carrying case, laptop bag, or something else?
My old laptop bag is much too big and cumbersome for the Air, so that doesn't work.
I'm currently using a 15" neoprene sleeve I had for an old laptop, and while that's a little too big for the MacBook Air, I like it better than the old laptop bag. However, the sleeve is often annoying because it doesn't have a handle, so when you're toting it around for any length of time, or trying to pay for a cup of coffee and need to set it down, it's a pain. And if it's raining outside, this is also a bad idea.
After looking around for a while, I think the items shown in this article make the best MacBook Air carrying cases and sleeves.
(Full disclosure: devdaily.com is not an affiliate with any of these companies. I'm just trying to find a good MacBook Air carry case, laptop bag, or sleeve, and sharing what I find as I look around.)
Waterfield Laptop SleeveCase
The Waterfield Laptop SleeveCase is the best idea I've seen yet. You can buy it as a MacBook Air sleeve, and add items to it like a flap, shoulder strap, and Piggyback pouch to keep building it up as a solution.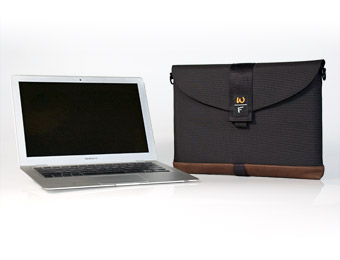 The basic SleeveCase for the MacBook Air is $39, the flap is $15, shoulder strap is $12-22, and the pouch is $25-27. If you buy all those you're getting up to $100, but the nice thing is you can start with the basic SleeveCase, then ask for the other items for birthday and Christmas gifts. Well, that's my plan anyway.
Here's a link to the Waterfield website.
The booq Vyper XS2 MacBook Air hardtop sleeve
My second favorite solution is the booq Vyper XS2 hardtop sleeve for the MacBook Air, which is sadly being discontinued. A hard, rubber shell and soft interior seems like a perfect MacBook Air carrying case/sleeve, but I guess not enough people thought it was a good idea like I do.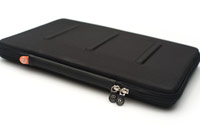 Here's a link to the booq website.
Thule MacBook Air sleeve
On a related note, I just looked around some more, and a company named Thule makes a similar MacBook sleeve, though I can't find a MacBook Air sleeve model. Here's a link to their MacBook sleeve on the Apple store.
Timbuk2 laptop bags
The Timbuk2 laptop bags don't fit my lifestyle, but if you want a waterproof MacBook Air carrying bag that can also hold books, paperwork, and other items, their Laptop Messenger Bag is nice. They actually have a variety of laptop carrying bags, so if you don't like the one shown here, just click through to see more.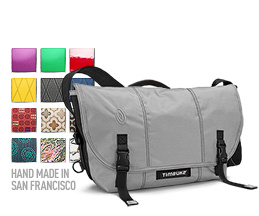 Here's a link to the Timbuk2 website.
The MacBook Air AirMail sleeve
The MacBook Air AirMail sleeve strikes me as more funny than practical, but it is made from vinyl and fleece, which might make it soft and offer some protection. If I went this route I'd rather just have a black vinyl MacBook AirMail sleeve.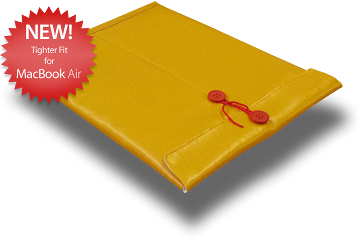 Here's a link to the AirMail sleeve website.
Incase MacBook Air sleeve
A company named Incase makes a MacBook Air neoprene sleeve that looks like a step up from my current neoprene sleeve carrier. It's currently $39.95 at the Apple Store.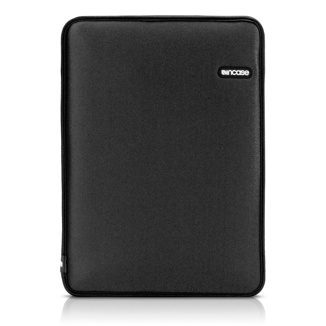 Here's a link to Incase page at the Apple Store.
Case Logic MacBook Air sleeve
If you look around Amazon and other places you might still be able to find a Case Logic MacBook Air sleeve. It looks like they've also discontinued their MacBook Air sleeves, and the only products they have now are intended for the MacBook Pro. But their older MacBook Air sleeves look similar in design.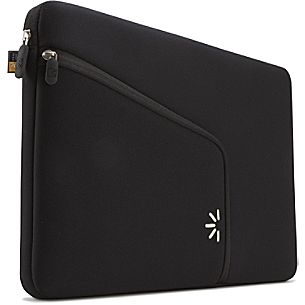 Here's a link to their website.
MacBook Air carrying cases, sleeves, and laptop bags
I hope this collection of currently available MacBook Air carrying cases, sleeves, and laptop bags is helpful to you. As mentioned, I personally like the Waterfield approach, but the other cases, sleeves, and bags can also be very good for other uses and lifestyles.