By Alvin Alexander. Last updated: June 4, 2016
Note: This contest has expired, but if you join our mailing list, you'll automatically be eligible to win future prizes.
Background
Founded in 1998, devdaily.com has over 2,000 online tutorials, and receives millions of page views every year. In 2011 we'll be giving away more prizes than ever before. This month we're giving away a copy of an extremely popular book, jQuery in Action.
Update: Not only will we give away one copy of jQuery in Action, but the more people that sign up, the more books we'll give away. That's right, the more people sign up, the more prizes we'll give away to help increase your odds of winning! (So, tell your friends!)
Win a copy of "jQuery in Action"
We're giving away at least one free copy of jQuery in Action (list price $44.99) in our contest that runs through the end of May, 2011. (If you win, you can choose to receive an eBook version of jQuery in Action, if you prefer.)
Want to win? As the saying goes, somebody has to win, it might as well be you!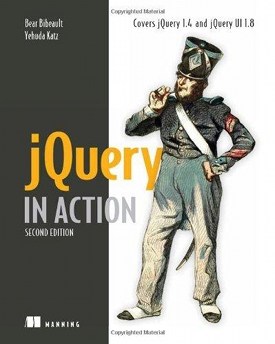 Just sign up to receive our devdaily.com monthly newsletter, and you'll be automatically registered in our "jQuery in Action" contest. As a bonus, you'll also be eligible to win future contests.
But first, please read the terms, conditions, and privacy information below.
devdaily.com contest privacy statement
devdaily.com will not use your email address for any purposes other than to send out our monthly newsletter or notify you that you have won. Our newsletter will only be sent out once per month, and will contain links to our most interesting and popular new articles.
"jQuery in Action" contest terms and conditions
Here are our simple "jQuery in Action" contest terms and conditions:
Sign up to receive our monthly newsletter any time between now and May 31, 2011.
Sign up only once per email address that you have. (Duplicate email addresses, or variations of email addresses that can be created with tools like Postfix, will be removed from the system.)
The drawing to determine the winner of the Refactoring book will be held on approximately June 1, 2011. You must still be on our newsletter mailing list at that time to be eligible to win.
One email address will be drawn at random at that time. The contest winner will be notified by email that they have won, and they must respond within five calendar days. The winner must be willing to provide their physical mailing address (as we need to ship this book to you).
If you remain registered to receive our newsletter after this contest is over, you'll be automatically eligible to win future contests.
Also, devdaily.com is not affiliated with Manning or the authors of jQuery in Action at all. I just like giving away books that I really like.
Enter the contest!
To register to receive our newsletter and enroll in our contest, just follow this link: