By Alvin Alexander. Last updated: July 17, 2016
I just got the Drupal Similar By Terms module working with Drupal 8, and I want to share my notes here so (a) I can remember how this works, and (b) in case it helps anyone else.
Configuring a View for the "Similar By Terms" module
My configuration Cliffnotes are:
Install the Similar By Terms module and enable it
Create a new Block View (via admin/structure/views on Drupal 8)
Create a Contextual Filter
Select the "Similar By Terms" NID

It's very important to use this value
This is shown as "Nid, Similar by terms" at the bottom of the "Add contextual filters" list when you click "Add contextual filter"
On the "Configure contextual filter: Similar by terms: Nid" config screen:

When the filter is not available -> Provide Default Value -> Content ID from URL
Limit similarity to terms within these vocabularies to Tags. (Optionally use Category.)

Save this Contextual Filter
Under "OTHER"
Sort Criteria (left side of View UI)

COUNT(Content: ID), descending

Filter Criteria (left side of View UI)

Aggregation type: Group results together (important)
Content: Publishing status = Yes

Save the View
Testing the view with Preview
You can test the view by putting a Node ID in the "Preview with contextual filters" textfield. All of this is shown in the following image: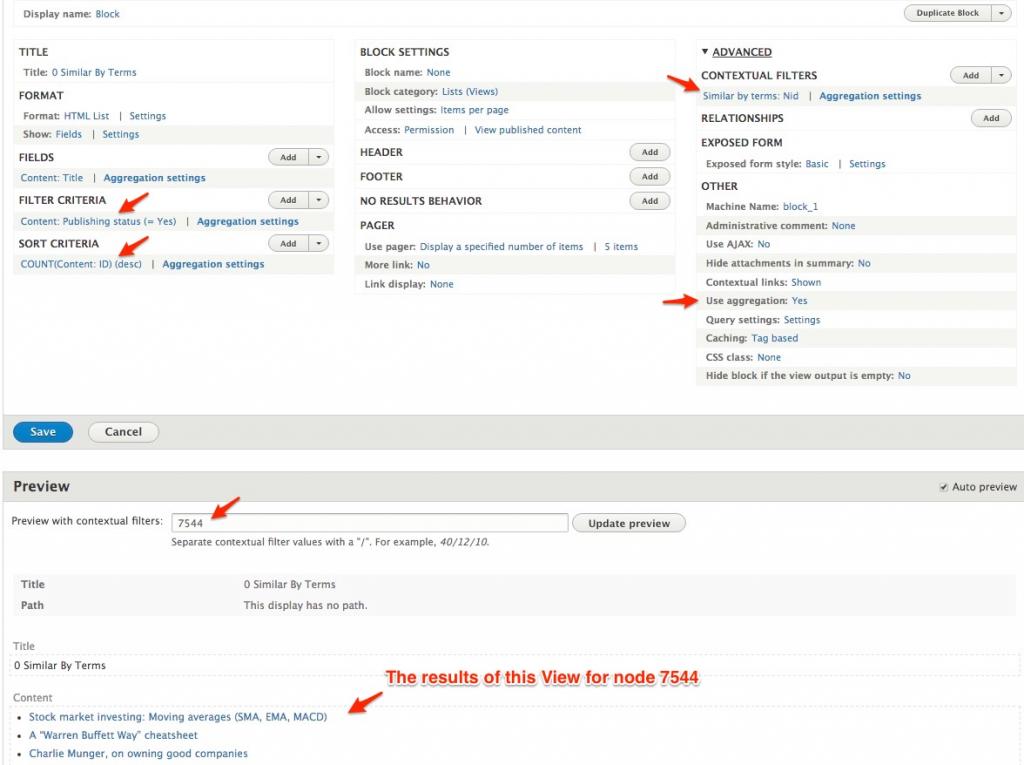 As you can see at the bottom of that image, similar nodes are shown for me in the preview area.
Last step: Create and place a block
The last step in this process is to create a block, and place it on the pages you want it on, in the theme region you want it in.
If you don't know how to do that, I write about it briefly in my Drupal 8 "Block" views do not show up on Blocks page article.
Summary
In summary, if you're trying to configure the Drupal "Similar By Terms" module, I hope this is helpful.