By Alvin Alexander. Last updated: June 4, 2016
Holiday geek gift ideas: Need a geek gift idea for under $10? If you're looking for a geek gift idea for a friend for under $10, or are going to an office party and need a $10 gift idea, we're here to help you. In this article we've sifted through hundreds of geek gift ideas to find the best gifts for geeks we can find at less than $10.
We've linked to all of these products at ThinkGeek.com
, but you can find many of them at other retailers as well. (In the interest of full disclosure, devdaily is now a ThinkGeek affiliate, but hey, that's a heckuva lot better than those annoying pop-under ads we're trying to get rid of.)
(All images below are courtesy of ThinkGeek.com.)
$10 geek gift idea - Splat Stan Coaster
If your geek likes to drink coffee, tea, or even cool beverages, the Splat Stan Coaster is a fun gift idea, currently $9.99 at ThinkGeek
. The Splat Stan Coaster is one of the most unusual coasters I've seen.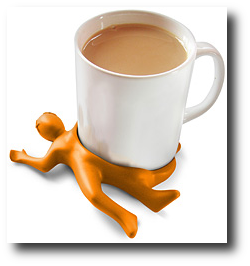 Geek gift idea - Dead Fred Pen Holder
The same people that bring you Splat Stan also bring you Dead Fred, but in this case it's the Dead Fred Pen Holder. Let your favorite geek take out their frustration on Dead Fred (so he won't take it out elsewhere). The Dead Fred Pen Holder is a terrific idea, for just $9.99
.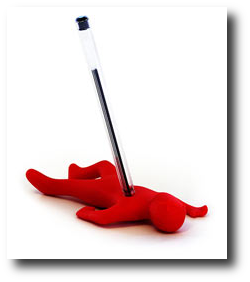 $10 gift idea - Ultimate 5-in-1 Geek Pen
The Ultimate 5-in-1 Geek Pen looks very cool. As its name implies, it has five features:
Ballpoint pen
Stylus
Bright white LED light
UV light
Red laser pointer
Haha, I already know who I'm getting this for. The pen and all five features are just $9.99 at ThinkGeek
.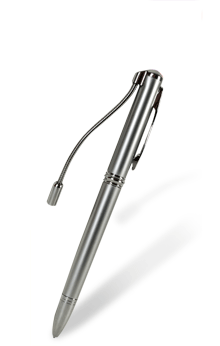 Geek gift - USB Flex Light
I might be a little different in that I sometimes like a dark work area, with some nice local lighting around my workstation ... but if other geeks are like this too, the USB Flex Light might be a cool gift idea for your favorite geek. As the ThinkGeek web page says, "the Flex Light gently illuminates your notebook keyboard".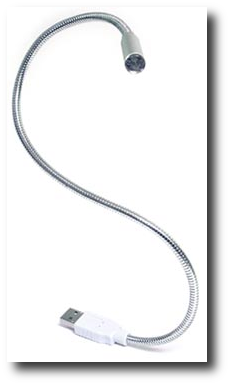 The USB Flex Light is just $9.99 at ThinkGeek
.
$10 gift idea - Ninja Star Pins
These actually look a little dangerous, and I certainly wouldn't use them in an area where someone might get their eyes poked out, but if you can keep them out of harm's way, the Ninja Star Pins can make it look like whatever you have posted on a cork board has been attacked by a Ninja. Currently just $9.99 at ThinkGeek
.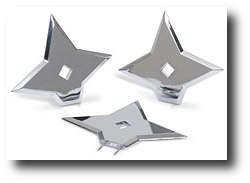 Geek gift idea - Geek coffee mugs
If your geek likes to drink coffee or tea, and they like eclectic coffee mugs, the $9.99 Toxic Waste Mug
might be a nice selection for them.
The RTFM mug speaks for itself. It's a 10-ounce black mug, with bold white "RTFM" letters. If your geek keeps sending out emails saying or implying RTFM, this $7.99 RTFM mug
is for them.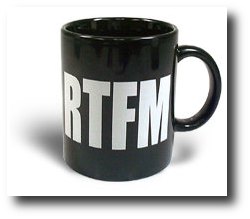 A little more up my alley ... as a Unix and Linux user for many years, and a coffee and tea drinker, I would love a vi reference mug. This is a 12-ounce mug, and a great geek gift for Unix, Linux, Solaris, AIX, HP-UX users and system administrators.
The vi reference coffee mug is currently priced at $9.99 at ThinkGeek
.
Geek gift - Hidden wall safe
I've never before seen a 'Hidden Wall Safe', but I have to say, I like it. The description of these product makes two interesting statements. First, most burglars spend less than six minutes inside a victim's home. Second, according to the Chicago Police, these units are better than a locked safe. The Hidden Wall Safe is currently just $7.99 at ThinkGeek
.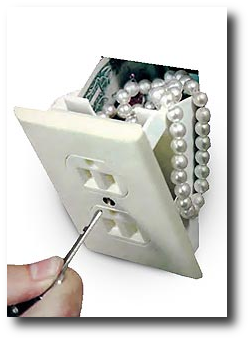 $10 gift idea - Walking Robot Pencil Sharpener
The Walking Robot Pencil Sharpener can be a nice gift for any geek that likes to use pencils. It's a pencil sharpener, but the act of sharpening a pencil also cranks up the robot so it will walk. A very clever idea, and currently just $5.99
.
Geek gift idea - Shocking Pen
If you know a geek who always complains about having their pens stolen, or they otherwise like to play practical jokes, the Shocking Pen might be the perfect geek gift for them. (Note: This gift idea looks like a pen, but it doesn't actually write.) This Shocking Pen is just $5.99 at ThinkGeek.com
.
Geek gift - Paper Voodoo Notepad
If you think your geek would like to hex or bless other people on a regular basis, the Paper Voodoo Notepad
is a fun idea. At just $5.99, you get 60 sheets of Voodoo hexing or blessing power.
$10 geek gift - Origami Sticky Notes
When I first saw the Origami Sticky Notes, I thought "Huh?", but after reading up on them, I think the idea is very, very clever. They work just like regular stick notes, but when you're finished with them you can fold them into different Origami shapes. Very cool, and just $3.99 at ThinkGeek
.
Geek gift - Staple free stapler
Need to staple something, but hate staples? As the ThinkGeek web page says, the Staple Free Stapler "cuts a tiny flap into the corner of your paper, and folds it into itself, tucked in a tiny paper pocket." A very clever idea, and just $5.99 at ThinkGeek
.
Geek gift - DIY Neon Sign Kit
I have no idea why this product is so inexpensive, but it looks like a lot of fun. The description at ThinkGeek says 'create your own custom neon sign on the spot with these snap-together 2" x 3" neon letters. Hmm, there is a disclaimer on the ThinkGeek site that says you need to have your own power supply, so maybe that's the catch? If you're interested in this as a geek gift, I think it's actually a good idea, but you better research the letter and power issues before making your final decision.
The DIY Neon Sign Kit is possibly just $3.99 at ThinkGeek. (I really like this general idea, but I'm confused by what you're getting ... I'll research and clarify this if I can.)
My "geek gift ideas" collection
As I wrap up my series of geek gift ideas for the 2009 holiday season, here's a link to the articles I've written over the last few days:
2010 geek gift ideas
I just created my new list of geek gift ideas for 2010, including these articles: