By Alvin Alexander. Last updated: June 4, 2016
Looking for a great geek gift idea - BuckyBalls! After seeing an ad for "BuckyBalls" on my website, I got curious about what they are. Turns out they are very cool! (I love magnetic toys.)
BuckyBalls are magnetic balls, or as they call them, "BuckyBalls Magnetic Building Spheres." Here's a quick BuckyBalls description from the ThinkGeek website
:
You can build basic shapes, complex sculptures, magnetic jewelry, or even outfit your refrigerator in bold and unique ways. Just look at all the shapes and forms you can make with these bad boys - it's amazing!

BuckyBalls magnetic toys are just what you need to help you brave the boredom of the office.
After digging into the BuckBalls literature, here are a few interesting bullet points of what I've been able to learn about BuckyBalls:
Powerful, rare earth, magnetic balls/spheres
Make sculptures, puzzles, patterns, shapes, etc.
216 BuckyBalls per set
Magnetic grade: N35
Each BuckyBall is 5mm diameter
And here is a short collection of BuckyBall magnetic toy images, courtesy of the ThinkGeek.com website: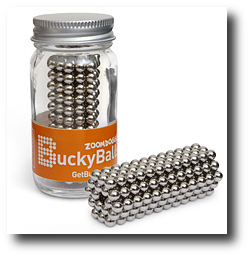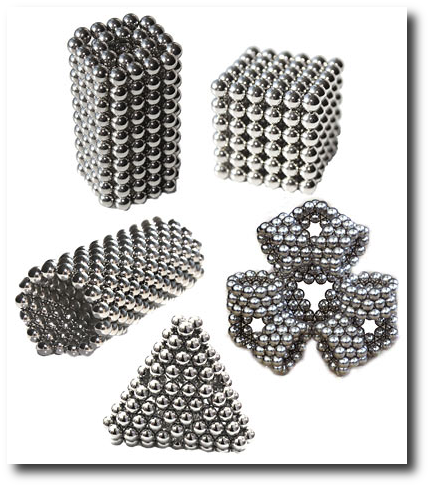 After reading up on these, I need to add them to my list of Geek Gifts for Under $50 article. When I first saw them I thought "What the heck are these?", but now I'm thinking they'd look really nice under the Christmas tree, lol.
A set of 216 magnetic BuckyBalls is just $29.99 at ThinkGeek.com
.