By Alvin Alexander. Last updated: June 4, 2016
In another Christmas/holiday geek gift idea, ThinkGeek currently has a cool "Multicolor LED Panel Lamp" which I think is pretty cool.
The lamp consists of 27 LED lights, divided into 9 different squares, and the squares slowly fade (randomly, of course) between all the colors in the rainbow. The squares are then combined into a 10" panel that then either stands upright, or can be mounted on a wall.
Here's an image of the Multicolor LED Panel Lamp, courtesy of ThinkGeek.com: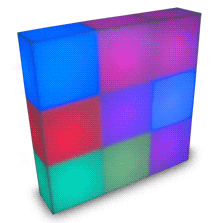 (Just hit the [Escape] key on your keyboard to stop that animation.)
Here's a second, static image of this LED Panel Lamp as it might look in a darkened room (also courtesy of ThinkGeek):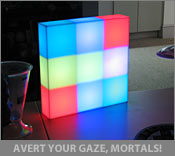 Geek gift - Multicolor LED Panel lamp info
Before I go, here's my quick PowerPoint presentation on the Multicolor LED Panel Lamp:
A flat LED panel, with nine squares that slowly change colors
Sits on a table or desk; can be wall-mounted
Cool, fashionable design :)
120V AC power
10" x 10" x 2.25"; 2.9 lbs.
If I had a nice entertainment room I'd love to have this LED Panel Lamp as a holiday gift. I think it would go great in any room that you'd use to watch movies, play pool, play board games, etc. It looks great, and would be a great conversation piece.
For the 2009 holiday geek gift season, ThinkGeek currently has this Multicolor LED Panel on sale for $29.99 (click here for more information)
.