By Alvin Alexander. Last updated: June 4, 2016
Trying to find the perfect geek gift idea for under $50 for the 2009 holiday season, or perhaps a geek birthday? Look no further. I've gone through hundreds of items and found my personal favorite geek gifts for the 2009 holiday season for $50 or less, and collected 15 of them here. (I planned to stop at 12, but couldn't.) I hope you like these geek gift ideas as much as I do. I know I'd be happy to receive any of these gifts over the 2009 holiday season.
Full disclosure: I've linked to many of these products at ThinkGeek.com, but you can find some of them at other retailers as well. devdaily is now a ThinkGeek affiliate, but hey, that's a heckuva lot better than those annoying pop-under ads.
Geek gifts: Tix LED Clock
I've written here before that I really like the Tix LED Clock, especially the black one. Currently $39.99 at ThinkGeek.com
, this is one of my Top-10 or Top-5 products in the entire Under-$100 price range. If you're looking for my favorite idea in this list, you just found it. :)
Here's a picture of the Tix LED Clock, courtesy of ThinkGeek: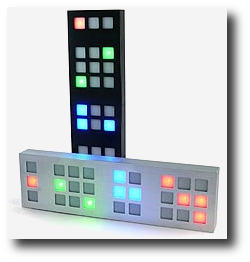 Geek gifts: Desktop speakers
I work from home a lot these days, and I'm absolutely interested in a nice pair of desktop speakers, so I've included in this section the two most-mentioned speakers I can find in the under-$50 category.
The X-mini iHome Capsule Speaker looks cool and is reported to sound great. (I need to find a pair locally to listen to myself.) I like the idea of great sound in a small form-factor, but I'm not sure about buying something else I need to charge. These capsule speakers are rated at 2.4 Watts of output, and are currently $49.99 at ThinkGeek.com
.
In search of speakers I wouldn't have to re-charge, I ran across the Crystal USB Desktop Speakers (currently $39.99 at ThinkGeek.com
). Each speaker is rated at 1 Watt per channel, and hey, they look pretty cool too.
Geek gift: JuiceBar Portable Solar Charger
The JuiceBar is a portable, re-chargeable battery pack. The JuiceBar's internal Li-ion battery can be re-charged via USB connection or the built-in solar panel, and the docs say it can store enough juice to charge most handheld electronics, and can charge a typical cell-phone several times.
When I get back to traveling a lot again next year, the JuiceBar would be a very, very handy device to have with me. The JuiceBar is currently $49.99 at ThinkGeek.com
.
Geek gifts: Dark Blade 3-Channel R/C Helicopter
Once again, I won't complain with anyone putting an RC helicopter or airplane under my Christmas tree. The Dark Blade RC helicopter, exclusively from ThinkGeek.com
($29.99), looks like a good time. It looks like it will fit in the palm of your hand, has a trim dial, 7-minute fly time, 10-minute charge time, and ThinkGeek says it's the smallest 3-channel helicopter around.
Here's a picture of the Dark Blade RC Helicopter, courtesy of ThinkGeek: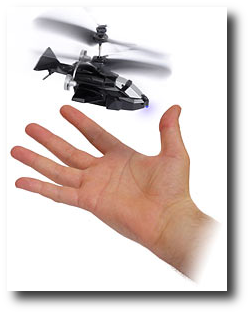 Geek gift: Aeropress Coffee Maker
If you have a geek friend who really loves coffee, the Aeropress coffee maker might be an excellent gift. I've only had pressed coffee like this a few times at fancy restaurants, and I have to say I like it. A couple of friends of mine also swear by it as the best way to make coffee.
The Aeropress Coffee Maker is currently $25.99 ThinkGeek.com
, where they also have a nice video showing how to make coffee with the Aeropress.
Geek gifts: AirTech FA-18 Super Hornet
There are times a computer geek or engineer just wants to geek out, and for me that involves flying airplanes or helicopters. I wouldn't complain if someone put this RC AirTech FA-18 Super Hornet ($49 at scientificsonline.com) under my Christmas tree. A 22" wingspan, 5-7 minutes of flight time and a 300' range all sound just fine to me.
Geek gift: ThinkGeek Bluetooth Retro Handset
I've already written on this site about the ThinkGeek Bluetooth Retro Handset, so I won't go into any more detail here. This may end up being the "Pet Rock" geek gift of 2009, but hey, that will give everyone something to talk about. I know that when I saw someone in a car talking on one of these phones I did a double-take, and then laughed. These handsets are currently $29.99 at ThinkGeek.com
.
Here's an image of the Retro Cellphone, courtesy of ThinkGeek.com: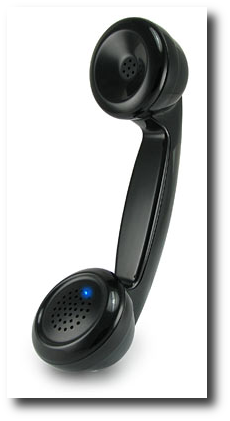 Geek gifts: Sony MDR-EX300/BLK Vertical In-the-Ear Style EX Style Headphones
For me this is something I'd need to see in person before I bought it, but I like all the noise-reduction I can get when I write at places like Starbucks and Panera Bread, and although Sony makes no claims of noise reduction here, the earbud style headphones usually work pretty well.
Amazon currently has these ear headphones priced at $49. They also have 27 customer reviews of them, and 23 of those are four- or five-star ratings. Most people rave about the sound, with the possible exception of too much emphasis on the high notes.
Geek gift - Magnetic toys - Levitron Anti-Gravity Top
I've always been fascinated by magnetism and magnetic toys, so I'd be pretty happy with the Levitron Anti-Gravity Top. It sounds like it might take a little work to get everything balanced just right, but I think most geeks would actually appreciate that effort. The Levitron is currently $24.99 at ThinkGeek
.
Geek gifts: Nebula Plasma Ball
The Nebula Plasma Ball could be a nice geek gift. I always like watching these things, and have even more fun putting my hands on them. I'm not dying for one, but if someone gave me one I'd think it was pretty cool. Edmund Scientific currently has their Nebula Plasma Ball at $39.95.
Geek gifts: Binoculars
As I get ready to move back to Alaska in the spring, you can bet I love nice binoculars, so I've included two different types here.
The Celestron Upclose Binoculars claim to provide clear, bright views at 10x magnification, and also support zoom adjustments to 30x. If so, that would be pretty awesome. My camera currently does 6x optical zoom (which is very nice for a small camera), so 10x to 30x sounds outstanding. And in my research I've read many good things about Celestron. Currently $43 at Edmunds Scientific, I'd be happy with these binoculars.
The Vista Pix takes a different approach, combining binocular and camera functions in one device. Edmund's is light on the specs on this device, so I'm a little leery of it, and would probably just go with the Celestron, but with more information this might be a cool pick.
Geek gifts - Magnetic toys - Levitation by Magnetism
Did I mention that I like magnetic toys? :) Here are two more magnetic-levitation devices in the under-$50 category.
This Diamagnetic Graphite Levitation Kit is essentially a puzzle. The four magnets in the set can be made to levitate when in one certain configuration. All you have to do is figure out what that configuration is. Currently $39.99 at Edmund's.
If I had a real office, the 4" Levitating Desktop Globe would quickly find a place on my desk. This system even includes a 'magnetic field sensor' that continually adapts to keep the globe suspended. The 4" globe is currently $39.99 at ThinkGeek.com
.
Geek gift: WD My Passport Essential 250-320GB Hard Drive
Some times a geek just needs more storage space, and that's where these external USB 2.0 portable hard drives come in. Plug them in, copy, and unplug; pretty simple.
Okay, these drives aren't technically always priced under $50, but there have been so many sales featuring the Western Digital My Passport Essential 250-320GB hard drives for under $50, I feel comfortable including them here. I've seen both of these models priced under $50 at Walmart and Best Buy.
Geek gifts: Skullcandy Lowrider Stereo DJ Headphones
Almost every geek I know likes a good set of headphones to wear while working (or playing computer games), and in the under-$50 category these appear to be the nicest headphones available. I found these headphones priced at $39.99 at Best Buy, where they share this description:
"These DJ style stereo headphones feature 90° swivel earcups with padded ear cushions to ensure maximum comfort. The folding headband tucks neatly away for easy portability."
Geek gift: Dynex 60" Universal Tripod
I'm getting back into cameras these days, so any type of Tripod device would be very nice. I found the Dynex 60" Universal Tripod priced for $38.99 at Best Buy, so that fits my $50 limit. This Dynex model is compatible with most digital cameras and camcorders, extends to 60", and has many other nice features.
More geek gifts - The honorable mention category
While digging around trying to find my favorite geek gift ideas for under $50, I found a large number of cool gifts, but some of them just weren't right for me, or I otherwise don't need them right now.
But if the list above wasn't enough for you, here are nine more geek gift ideas for 2009:
I just dicovered the BuckyBalls magnetic toys, which are very cool, and under $30.
If you can find a great sale, you may also find a portable DVD player under $50, including the Philips Portable DVD Player at Walmart on Black Friday
You can find all sorts of memory cards (microSD, etc.) for cameras and recorders
USB flash drives - everyone always needs more storage
Digital photo frames
Movie and tv series DVDs
My "geek gift ideas" collection
As I wrap up my series of geek gift ideas for the 2009 holiday season, here's a link to the articles I've written over the last few days: