By Alvin Alexander. Last updated: June 4, 2016
Geek gift ideas: As part of my ongoing "Geek gift ideas" series, I just wrote about the LED Binary Clock, which I always though was a cool geek gift idea, and now I just saw the TIX LED Clock, which I like just as much. If your geek likes clocks, I like both of these clock gift ideas.
The Tix LED Clock
looks great, and their approach to displaying the current time is also very innovative. Here's part of the Tix LED Clock description from the ThinkGeek website:
The four separate fields of the Tix LED Clock act like the four digits of a digital clock. The value of each digit is simply the number of illuminated squares in each field. So any given time of the day may have thousands of different ways of displaying the time.
Here's a picture of the Tix LED Clock, courtesy of ThinkGeek.com
: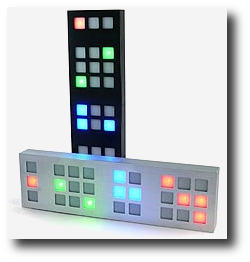 Wow, I really like the look of this LED clock. (I admit, I might be drooling here, lol.) Okay, I haven't seen one in person yet, but judging by the pictures, I'd choose the black Tix LED Clock, mostly because I think it would really look great against a white or light-colored wall.
Tix LED Clock - geek gift idea info
Here's my 'geek gift' PowerPoint presentation on the Tix LED Clock:
Brushed metal faceplate, available in Silver or Black
Three display update options
Three dim levels
Mount horizontally or vertically (or lay on desk)
Runs on 6V AC
10.2" x 3.0" x 1" deep
The Tix LED Clock is currently priced at $39.99 at ThinkGeek. And I have to say now, I'm really torn between this LED clock and the binary clock.
Other 'gifts for geeks' ideas
To help you find a great geek gift, here's a link to more geek gift ideas on this website. If the Tix LED Clock just doesn't sound quite right, hopefully one of the other geek gift ideas I've written about will help.