By Alvin Alexander. Last updated: June 4, 2016
I was just looking at the ThinkGeek website to see what new gifts for Father's Day 2010 I could find, and I ran across a cool Kiwi Wifi iPhone car diagnostic kit.
Kiwi Wifi iPhone car diagnostic kit contents
The Kiwi Wifi iPhone car diagnostic kit
consists of two parts: A small piece of hardware you connect to your car, and an iPhone app that shows the car diagnostic information.
Here's part of the Kiwi Wifi product description from the ThinkGeek website:
The Kiwi Wifi is a plug and play wireless device that connects to your car's OBDII port (right below the steering wheel). Kiwi Wifi comes attached with a 6 ft OBDII cable for easy installation. It also comes with a power switch built-in to prevent the need for having to constantly disconnect your unit from the OBDII port. You can use it in any vehicle born in 1996 or later ...

Once the device is connected, you can download one of two recommended car diagnostics apps from the App Store and begin to monitor all sorts of stats about your car.
A few car diagnostics you can monitor with the Kiwi Wifi include: fuel efficiency, check engine trouble codes, real time gauges, horsepower and torque, and more.
I've been thinking about something like this lately, because my 2006 Toyota RAV4 has been running rough lately, and I'd sure like to know why.
Here's a picture of the Kiwi Wifi OBDII cable: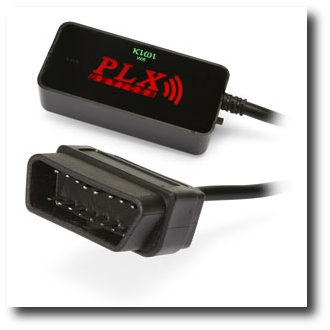 And here's a photo of what the Kiwi Wifi car diagnostic iPhone app looks like: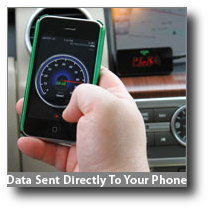 Kiwi Wifi question - Why don't cars have better diagnostics?
All of this makes me wonder, in this day and age, why don't automobile dealers give us an awful lot more diagnostic information about our cars? If there are enough sensors in an engine to monitor performance and know that something serious is wrong, why can't they also give us more detailed information on a computer screen, or provide a car diagnostic service like this Kiwi Wifi iPhone car diagnostic kit provides? A little human-readable information like "There may be a minor problem in Cylinder 4", followed by a few details would be very welcome.