By Alvin Alexander. Last updated: June 4, 2016
I don't write about products or services too often, but I really like the idea of the Logitech Speaker Lapdesk N700, pictured here: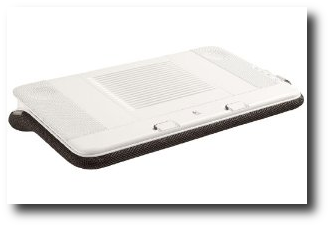 I don't own a tv any more, but from time to time I'll watch some videos before going to bed (either shows on Hulu, or something from my DVD collection), and this "Speaker Lapdesk" looks perfect for that occasion.
I already use cooling fan systems with my old MacBook Pro, so adding good speakers to a cooling system seems like a great idea.
In full disclosure mode here, devdaily is an Amazon partner/affiliate, so the link below takes you to Amazon. That being said, I have a simple policy here, and I wouldn't write about this "Logitech Speaker Lapdesk" unless I'd consider buying one for myself.
Logitech Speaker Lapdesk N700 - summary
I know the new iPhone models will probably be released tomorrow, but until then, this is the most interesting computer accessory idea I've seen this year since the iPad, or since the Netflix/Roku digital video player combo.