By Alvin Alexander. Last updated: June 4, 2016
Geek gift ideas 2010: As a geek, I've always been fascinated by magnets, so any kind of "magnetic toy" has always been a great "geek gift idea" for me. Given my fascination with magnetic toys, I just took a LOT of time :) looking at magnet toys at ThinkGeek and Edmund's Scientific, and came up with this list of magnetic toy ideas.
(All of the images shown below are courtesy of ThinkGeek.com.)
Magnetic toys as geek gifts - The Levitron Anti-Gravity Top
I've always been fascinated by magnetism and magnetic toys, so I'd be pretty happy with the Levitron Anti-Gravity Top. It sounds like it might take a little work to get everything balanced just right, but I think most geeks would actually appreciate that effort.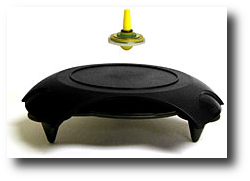 The Levitron Anti-Gravity Top is currently $24.99 at ThinkGeek
.
Magnetic toys as geek gifts - Levitation by Magnetism
Here are two more magnetic toy levitation devices in the under-$50 category.
As magnetic toys go, this Diamagnetic Graphite Levitation Kit is essentially a puzzle. The four magnets in the set can be made to levitate when in one certain configuration. All you have to do is figure out what that configuration is. Currently $39.99 at Edmund's.
If I had a real office, the 4" Levitating Desktop Globe would quickly find a place on my desk. This system even includes a 'magnetic field sensor' that continually adapts to keep the globe suspended.
Here's an image of this very cool magnetic levitating globe: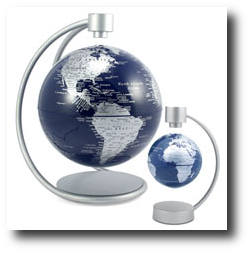 This cool 4" magnetic levitating globe is currently $39.99 at ThinkGeek.com
.
More magnetic toy ideas
Just poking around on the Edmund Scientifics website, they have several cool geek gift magnetic toys for up to $100(!). I don't have time to write these up yet, but here are links to two more cool magnetic levitation devices at Edmund Scientifics:
Levitron Anti-Gravity Deluxe Space Mission Assortment ($99.95)
The IFO 3000 - Magnetic Floating Display with Globe ($99.95)
Fun magnetic toys - BuckyBalls
BuckyBalls are magnetic spheres, or as they call them, "BuckyBalls Magnetic Building Spheres." Here's a quick BuckyBalls description from the ThinkGeek website:
You can build basic shapes, complex sculptures, magnetic jewelry, or even outfit your refrigerator in bold and unique ways. Just look at all the shapes and forms you can make with these bad boys - it's amazing! (see images below)
And here's my short PowerPoint presentation on these magnetic BuckyBalls:
Powerful, rare earth, magnetic balls/spheres
Make sculptures, puzzles, patterns, shapes, etc.
216 BuckyBalls per set
Magnetic grade: N35
Each BuckyBall is 5mm diameter
And here is a short collection of BuckyBall magnetic toy images, courtesy of the ThinkGeek.com website: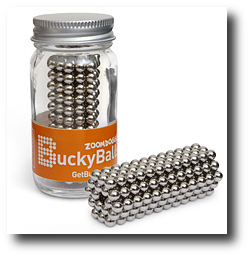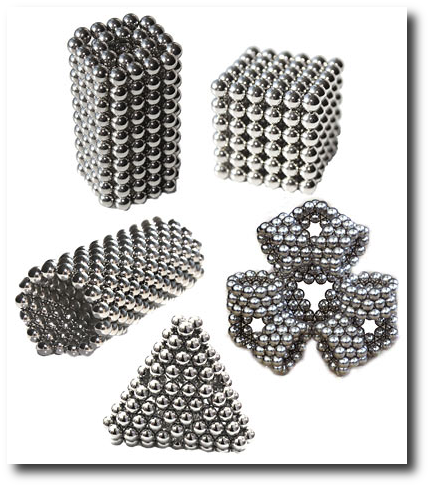 After reading up on these, I need to add them to my $50 Geek Gifts list. When I first saw them I thought "What the heck?", but now I'm thinking they'd look really nice under the Christmas tree, lol.
A set of 216 magnetic BuckyBalls is just $29.99 at ThinkGeek.com
.
Magnets as toys - Magnetic Accelerator Kit
I just stumbled on the Magnetic Accelerator Kit, and it looks like fun. Here's an excerpt from the ThinkGeek description:
Set the metal ball at the end of the track and watch as the energy transfers and multiplies down the track of magnets and metal balls until finally the last ball zooms off. The Magnetic Accelerator Kit is a great study for science fairs, but is just at home on your desk (just be careful what it sits near - these magnets are STRONG). Magnetic acceleration has a big place in our future (from weapons to travel) so why not start learning about it now?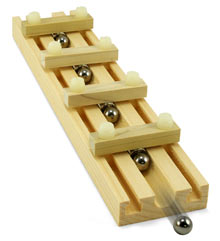 If you or your favorite geek really likes magnets, the Magnetic Accelerator Kit can be a nice magnetic toy/gift at $29.99.ThinkGeek.com
Geek gift magnetic toy ideas - Magnetic bottle opener
This isn't exactly a toy, but I just ran across this idea for a Magnetic Bottle Opener, and thought I'd include it here as a "geek gift" idea: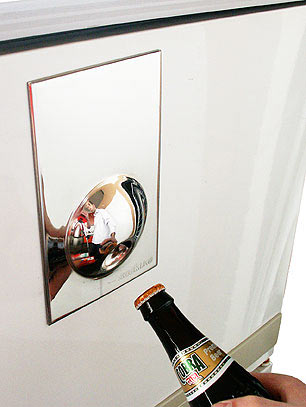 Here's the description from ThinkGeek:
The Fridge Magnet Bottle Opener magically sticks to the front of your fridge and can open any bottle with ease. It's fashioned from a plate of shiny stainless steel with a rubber magnetic backing. You will no longer be searching around for that elusive opener, since this one doesn't move. The design lets you easily open a bottle using just one hand.
That's a pretty interesting idea, and just $19.99 at ThinkGeek.com
.
Magnetic toys geek gift idea - Magnetic vase
The next magnetic toy gift idea here is crazy-cool -- a magnetic vase. With the assistance of a hidden base, the magnetic vase will look like it's floating on air.
Here's the description from ThinkGeek:
Tall and thin, it's only really capable of holding one flower at a time, so you don't have to think about arranging! Plus, we're saving you money on flowers, too!
But, being so tall and narrow, how does it keep from getting knocked over? It seems to stand up with magic! What you're not seeing is a thin steel plate that hides underneath your table cloth. The bottom of the vase attaches through your tablecloth with a magnet.
Here's an image of this magnetic vase, courtesy of ThinkGeek: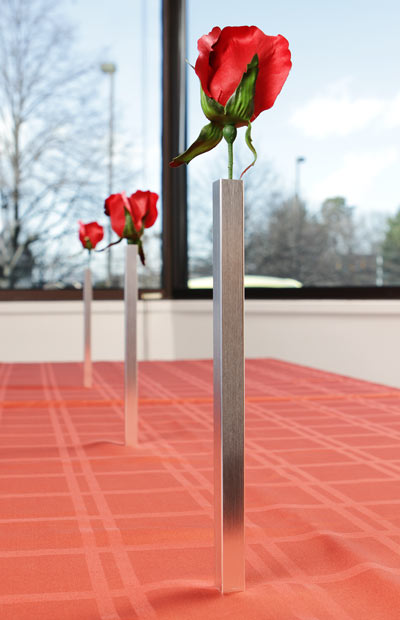 The Magnetic Vase is just $39.99 at ThinkGeek
. (And just think how much that will save you on the cost of flowers when you only have to buy one at a time!)
Magnetic toys gift ideas - Photoshop Magnet Kit
This gift doesn't exactly fit into my "magnetic toys" theme, but when I saw it, I had to laugh. I've Photoshop'd so many images of family members, I know exactly who this gift is for, so it's probably a great "geek gift idea" for other geeks.
Just attach these magnets around an image that looks Photoshop'd to you, and everyone will know exactly what you mean: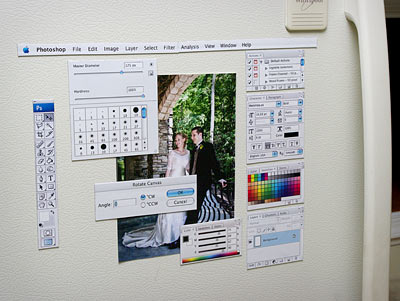 At the very least, they'll make very nice refrigerator magnets.
The Photoshop Magnet Kit is $24.99 at ThinkGeek.
Summary - Magnetic toys and geek gift ideas
I hope you like this selection of magnetic toys and geek gift ideas for the holiday season. I'll try to update it as I run across more cool magnet toy gift ideas, but I hope this is off to a good start.