By Alvin Alexander. Last updated: June 4, 2016
More geek gift ideas for 2010 - One of the fun things about having relationships with vendors through this website is that I get all sorts of emails about new products, and as I look at them this time of the year, I try to find the ones that I think will be great geek gift ideas.
In the last few days the emails have been flying, and since time is limited, I thought I'd put together another article of great geek gift ideas -- but this time I'm just sharing the ads for huge Black Friday and Cyber Monday discounts that I receive directly with you.
iPad and iPhone geek gift ideas 2010
I already put together an article of great Holiday iPad gift ideas, but recently a company named Zagg has come out with ads featuring new products and discounts on iPad and iPhone gift ideas. Here are a few of their ads for their iPhone and iPad products. First, you can scratch-proof your iPhone:
Next, you can also scratch-proof your iPad:
Next, Zagg has also come out with a cool new product named the Zaggmate, which looks like a great iPad accessory: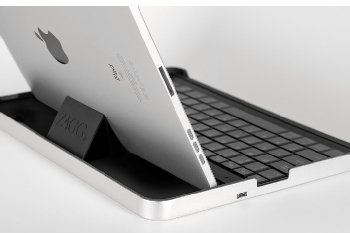 ZAGGmate - the perfect companion for your iPad
Geek gift ideas from the Discovery Channel
Every geek I know loves stuff from the Discovery Channel, and I just received these two big discount promotions for Black Friday and Cyber Monday:
Note that those promotions will both end very soon.
Geek gift ideas 2010 - Luxurious chocolate
This is a little bit of a different "geek gift idea", but if you're buying for a female geek, or perhaps you're a geek buying for a significant other, these ads for "Luxurious Chocolate" struck me as pretty interesting:
Luxury chocolate is surely a unique gift idea that will be remembered for a long time.
Geek gift ideas 2010 from Sobongo
A company named Sobongo has sent me a ton of ads lately for huge discounts on their website. Here are links to some of their discount pages:
Geek gift ideas from Think Geek
Last but certainly not least, Think Geek is THE place to shop for geeks of all ages. I featured many of their products in my earlier Geek Gift Ideas for Under $20 2010 article, and I have many of their ads on this website, but here are a couple of additional links to special deals for this weekend:
ThinkGeek has become my "go to" store to check out all the latest great geek gift ideas, and you can't go wrong browsing their holiday 2010 geek gifts.