By Alvin Alexander. Last updated: April 16 2019
After having what I call a "fake heart attack" — something that was really Kounis Syndrome, also known as allergic angina — I had an angiogram in May, 2016, at which time an Angio-Seal device was used to help seal the hole that was put in my femoral artery after the angiogram.
As I understand it, this device is used to place a collagen seal around the artery. The collagen is shown in this image, which comes from the link in the previous paragraph: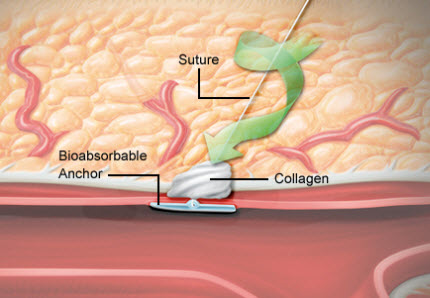 I think the collagen material is most of the lump that you feel in your leg/groin. (Part of the lump may also be due to swelling.) In my case the cardiologist performed my angiogram by going into my body through the upper-right part of my right leg (the groin area). Unfortunately he went in right in the area where the leg joins the torso (the groin), so any time I bent my leg upwards I had pain/discomfort.
Angio-Seal pain and discomfort
From my own experience, I can tell you that the pain and discomfort lasts several weeks. I document this in the sections below, but event today — more than three weeks after the angiogram — I still prefer to sit in a recliner rather than a normal chair.
The first five days
The initial pain wasn't horrible, but it was a strong, dull ache. For at least the first five days I walked very, very slow, as the doctors advised. During this time I never tried to sit in a chair, and I could only sleep on my back or on my left side.
The first ten days
After those first five days I was able to walk a little more — or maybe I should say that I pushed myself to walk a little more, in part because I needed groceries. When I went to the grocery store I moved very slow, and wore sweatpants (so that the blue jeans that I normally wear wouldn't rub against my leg/groin).
That was the only time I sat in a normal seated position. I often stood up while working on my computer, or I sat in my recliner, with it open to a pretty wide angle to keep pressure off of the Angio-Seal area.
During this time I continued to sleep only on my back and left side. I tried to sleep on my right side, but I immediately felt pain from the Angio-Seal, so I stopped trying to do that.
After two weeks
Some time after the first two weeks the pain/discomfort improved quite a bit, and I was eventually able to sleep on my right side. At first I only slept for short stretches before I could feel some pain from the Angio-Seal, but now, after three weeks, I am able to sleep normally in any position.
After three weeks
As I write this, it's now 23 days after my angiogram, and while I can still feel discomfort in the Angio-Seal area, it no longer hurts. It's more like I can feel it, and if anything it's a very mild pain. The page I linked to states that it can take 60-90 days before the collagen seal goes away completely, but since I can walk at a normal pace and also sleep on my right side, I'm much happier these days.
Comments
Thanks for the post AI, had one about a week ago and was wondering how much longer ... 2 more weeks sounds ok, fingers x'd!
Cheers from down under.
Ivo
Add new comment