By Alvin Alexander. Last updated: June 4, 2016
Today I'm releasing Version 1.0 of a very simple, free Mac OS X application named "Meditation".
This Mac Meditation application is really just a very simple timer that plays a "gong" sound at the end of the time period you specify. (So, if you want a Mac OS X timer application for some other reason, Meditation may fit your needs.)
Mac Meditation information
This application is written in Java, but I've turned it into a Mac application, as described in this "Make your Java app look like a Mac OS X app" tutorial.
As a consumer, if you have Mac OS X 10.5 ("Leopard") or newer, this should work fine. I don't have older versions of Mac OS X (like "Tiger"), so I don't know if it will work on those systems or not.
Here's what the Meditation application looks like when it's running: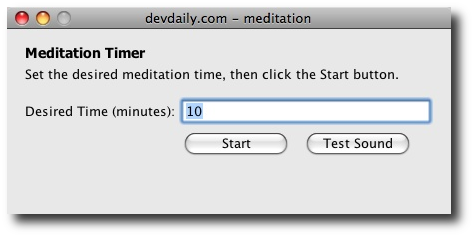 Again, it's very simple. Just enter the desired number of minutes to meditate, and the "gong" sound will play twice at the end of that time period.
Download Meditation
As mentioned, the Mac Meditation is free. You can download it as a zip file by clicking the link below:
Here's the MD5 checksum for this zip file:

a98d16c162996f50374f0d354023b535

Installing the Mac Meditation app
Once you've downloaded the Meditation application, double-click the zip file to open the contents, check out the README and LICENSE files, and then install it like most other Mac applications: Just drag it to your Applications folder.
If you have any questions or problems, just leave a comment below, or use the contact form to reach me.
Namaste :)
Al