By Alvin Alexander. Last updated: June 4, 2016
For reasons shown in the following image, I decided it was best to leave Santa Fe last night, and drive back to Colorado: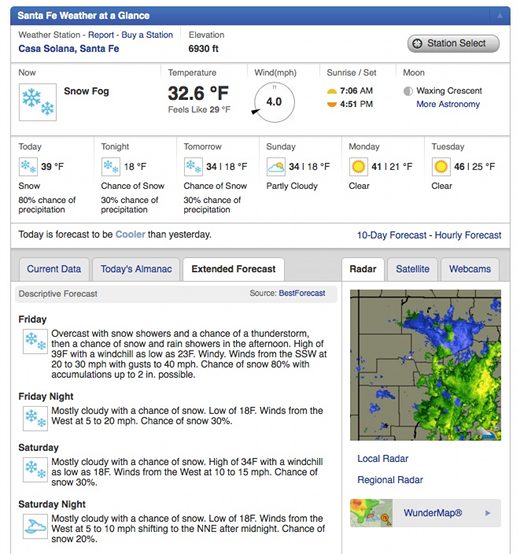 That weather doesn't look too bad, but people were scattered all over the sides of the road when I drove down to Santa Fe on Monday, and there was only one lane open on I-25, and there was also at least one fatality.
Upset about having to leave early
I was upset when I felt forced to leave Santa Fe last night, because some of my favorite memories involve driving from Santa Fe to Taos in the wee hours of the morning, and enjoying the quiet drive and beautiful scenery at that time of the morning, with nobody else on the road. There's something a little magical about driving through a town like Taos while almost everyone else is asleep, especially in the cold. Plus, when you drive back to Colorado through Taos you're on rural roads winding through the mountains for a couple of hours ... a wonderful drive.
So I started off on Thursday evening upset that I'd miss that drive; I thought it was a better idea just to get on I-25 immediately and get home as fast as possible, rather than taking the scenic route.
But then a funny thing happened. Once I got north to a certain point, I don't remember exactly where, I became almost the only person on I-25 North -- or at least it felt that way -- and as I listened to a biography on Albert Einstein, I was treated to an incredible meteor shower show. I turned off all the lights in the car, put it on cruise control, and spent as much time looking at the sky as at the road.
As I got close to Pueblo, Colorado the traffic increased and I had to (sadly) pay attention to the road again, but the meteor shower continued all the way back to the Boulder, Colorado area.
Carpe diem
So my feeling this morning is this: You can try to re-create wonderful moments, such as driving through Taos and the mountains in the wee hours of the morning, but you can also create new memories when you least expect to.
The second thought running through my mind is that when I travel, I need to spend more time driving in the dark, the off hours. When I drove down to Santa Fe on Monday, I left the house at 4am, and got to enjoy a beautiful sunrise and the frozen tundra of that morning, as shown in the following pictures.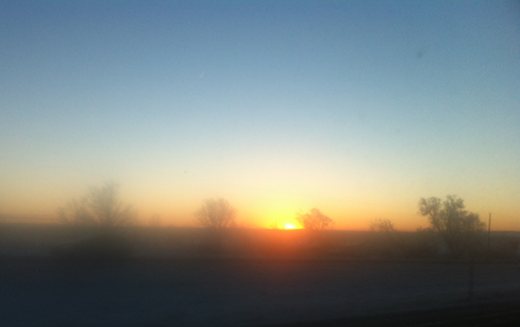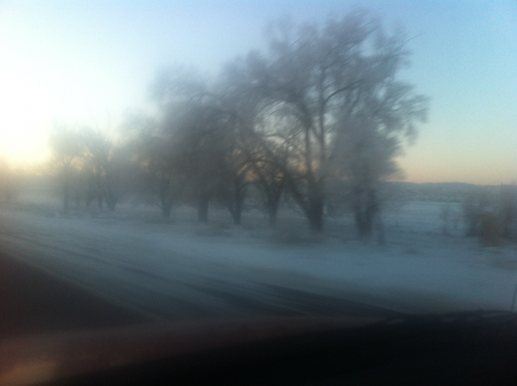 I guess what I'm thinking is that you drive during the off hours, the road can feel a lot less crowded, which makes it feel a little more like the wide-open rural roads in Alaska, and the Yukon Territory and British Columbia in Canada.