By Alvin Alexander. Last updated: June 4, 2016
I've been looking at a lot of "geek gift ideas" ($10 geek gifts, $20 geek gifts, etc.), and as I continue my search for the Christmas/holiday season, I decided to take a look at the "geek coffee mug" market to see if there was anything new and exciting this year. Here's what I've found.
Geek gift ideas - Toxic waste geek coffee mug
If your geek likes to drink coffee or tea, and they like "eclectic" coffee mugs, the $9.99 Toxic Waste Mug
might be a nice selection for them. Personally I'd prefer the "vi" mug shown below, but this Toxic Waste coffee mug might be great for the right person.
Geek gift ideas - RTFM geek coffee mug
What can you say, the "RTFM coffee mug" speaks for itself. It's a 10-ounce black geek coffee mug, with bold white "RTFM" letters. If your geek keeps sending out emails saying "RTFM", this $7.99 RTFM mug
is definitely for them.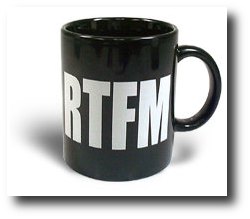 Geek gift ideas - vi editor Geek coffee mug
As a Unix and Linux user for many years (and both a coffee and tea drinker), I would love a vi reference mug. This is a 12-ounce mug, and a great geek gift for Unix, Linux, Solaris, AIX, HP-UX users and system administrators.
The vi reference coffee mug is currently $9.99 at ThinkGeek
.
Geek coffee mugs - honorable mention - the Splat Stan Coaster
I can't end this coffee mug article without writing about the Splat Stan Coaster. This is a fun gift idea that your geek will certainly enjoy, and is currently $9.99 at ThinkGeek
. The Splat Stan Coaster is one of the most unusual coasters I've seen, and will certainly be a conversation piece.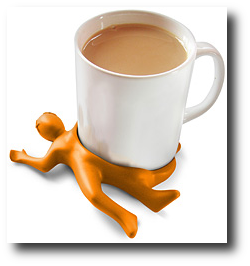 Evil Genius Geek coffee mug
CafePress has a $15 "Evil Genius" coffee mug that's pretty nice. The text on their mug is "Warning: evil genius with no caffeine." It doesn't blow me away personally, but can be a good coffee mug gift for the right person.
Zazzle coffee mugs
There's a website named zazzle that has a nice collection of geek coffee mugs. Here are a few of the better sayings on their coffee mugs:
"It's not a bug, it's a feature."
"No, I will not fix your computer."
They also have an "ASCII art Christmas tree" mug that is pretty nice.
Amazon geek coffee mugs
Amazon makes it hard to link to them these days -- their URLs are very, very long -- but they have a few decent geek coffee mugs. Just head over to Amazon.com, and you can find coffee mugs for geeks with titles like these:
"The geek shall inherit the earth"
"Geek girls rule"
"Geek with an attitude"
Geek coffee mugs
I hope this collection of geek coffee mugs and coffee mug gift ideas has been helpful. Happy shopping!