By Alvin Alexander. Last updated: June 4, 2016
I downloaded an iPhone app named Trailguru recently, and was hoping to give a review of it, but I had no luck with it this morning. I walked a little more than 2.25 miles, but as this screenshot shows, Trailguru says I walked only 0.38 miles: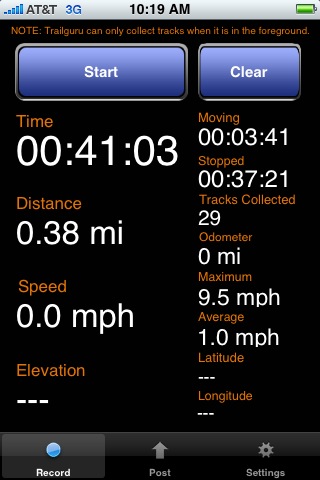 During my test I started Trailguru, left it in the foreground, then started my walk around a local park that has several trails with known distances. One of the trails takes me into the woods a little bit, but FWIW I know from previous experience that I can get a phone call anywhere in the park.
I'm not sure what went wrong, but I was disappointed when I looked at the phone several times and it was tracking my time, but the mileage wasn't increasing. I see where the "Stopped" portion of the screen shows "37:21", so my only guess is that while the timer keeps running when the iPhone turns itself off, the GPS portion of the application doesn't work at this time.
So, not much of a review. I will write the Trailguru people and see if I/we can find out what's wrong.