By Alvin Alexander. Last updated: September 25, 2018
September 26, 2010: I went down to Seward, Alaska for a short vacation this week, and woke up to a 5.5 magnitude earthquake one morning. True story: I was in the middle of a dream when I suddenly heard the song "Rock The Boat" playing as someone grabbed my left wrist. I then woke up to hear something rattling in the hotel room, and before I could think of who I was, where I was, or what to do, the earthquake stopped.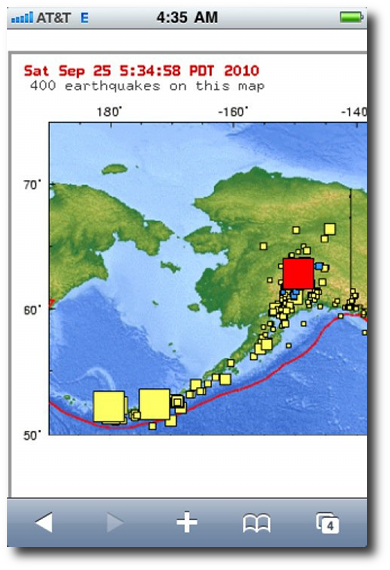 Turns out the earthquake was a 5.5 magnitude quake way north of Seward (the red square in the photo above). Shoot, it was well north of Talkeetna, which is at least 200 miles north of Seward. I waited for an aftershock, never felt one, and went back to sleep.
The funny thing is that several tourists got up and went out to the parking lot. I guess I've gotten used to the earthquakes here, but I assume that if the first one doesn't kill me, the aftershocks aren't going to kill me either.
(Really, I don't mean to make light of them, but I thought about it, and I'm not sure you can really do much if an earthquake hits while you're sleeping, especially if you're on the third floor of a hotel.)
More Alaska earthquake information
While I'm in the "Alaska earthquake" neighborhood, here are links to the other earthquakes we've had this summer in Alaska:
What blows me away is that the 1964 Anchorage, Alaska earthquake was more than one million times more powerful than the earthquake we had on September 20th:
I can barely fathom "twice as powerful" or "ten times as powerful", but I can't even imagine "one million times more powerful", that's just amazing.