By Alvin Alexander. Last updated: June 4, 2016
MacBook keyboard skins FAQ: Can you recommend some MacBook keyboard skins (MacBook protective keyboard skins)?
I have an old MacBook Pro whose metal finish is wearing off, and I also just bought a new MacBook, so I've been looking into various MacBook accessories lately, specifically MacBook skins, and MacBook cases, covers, shells, and sleeves.
After seeing the Mac keyboard/keypad skins at one website, I thought there would be a lot of websites selling artistic MacBook keyboard skins, but for the most part, MacBook keyboard skins seem to be more practical than artistic. With the aluminum on my MacBook Pro flaking off, that's probably a good thing; I can use a MacBook keyboard protective skin/cover, and artwork in this area would probably be distracting anyway.
After some more digging around on quite a few Apple/Mac sites, here's a short collection of the best MacBook keyboard skin sites I've found.
MacBook keyboard skins/covers from MacStyles
MacStyles provides the only real artistic entry in the MacBook keyboard skins list. They don't make a MacBook keyboard skin exactly, but they do make something they call a MacPad, which creates a colored, padding surface that seems to provide a protective skin around the MacBook keyboard surface.
I can't figure out a great way to describe these MacBook skins, so I'll just show a few pictures here. Prices for these MacPads are currently about $15.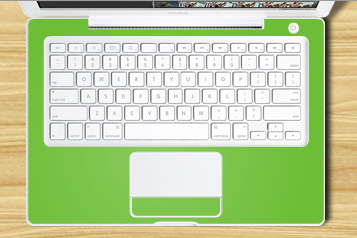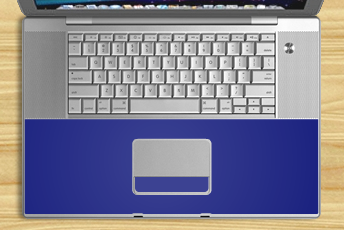 (Images courtesy of MacStyles.)
Apple MacBook laptop cover from Protect
Now jumping into the world of "practical" MacBook keyboard skins, a company named Protect Computer Products sells an "Apple MacBook Laptop Cover" for less than $20. From their website, their A1181 Laptop Cover product "Protects MacBook keyboard from liquid spills, dust, dirt, and other grime; made from UV resistant polyurethane 10.5 mil; 100% latex free; easily cleaned with common house hold cleaners or germicidal wipes."
zCover MacBook keyboard skins and covers
A company named ZCover makes a variety of MacBook keyboard skins. Really, they're all the same, but they come in different colors, including Clear (okay, that's not a color), Blue, Green, Pink, Purple, and Yellow. They're currently about $25 at the zCover website, and it looks like they are also available through resellers.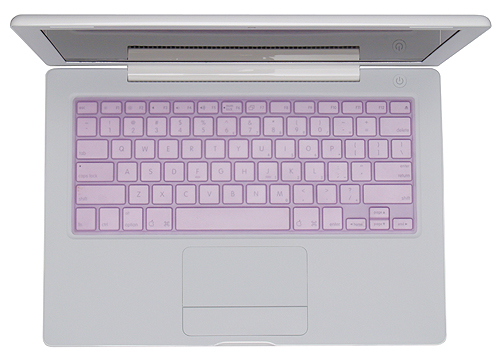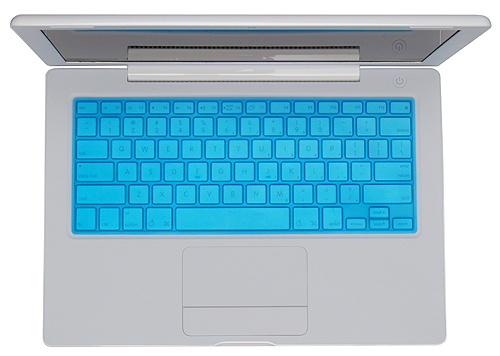 (Images courtesy of zCover.)
LogicSkin MacBook keyboard cover
A company named LogicSkin makes a transparent MacBook keyboard cover for about $25. Their MacBook keyboard skin/cover is "0.5 mm thin, flexible, tough, soft, washable, helps muffle typing noises."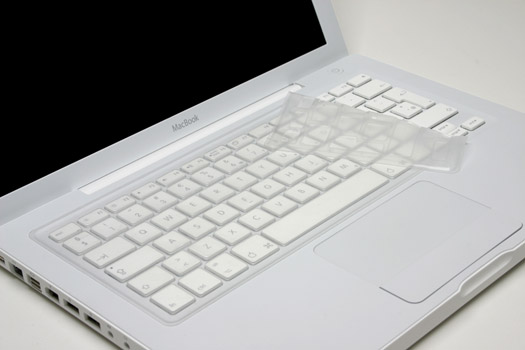 (Image courtesy of LogicSkin.)
Marware - Keyboard protector for MacBook Pro
Looking at another site, I can't find a keyboard skin for the latest MacBook model, but a company named Marware sells a "keyboard protector" for "Apple Notebook Aluminum Unibody" designs. For under $30, it appears to fit all aluminum Mac notebook models.
Mac and MacBook keyboard skins - summary
I'm sure there are many more cool Mac and MacBook keyboard skins sites, but I hope these sites give you an idea of what's available.
As a closing note, if you're interested in skins to cover the outside of your MacBook, please see our MacBook skin article. Or, if you're interested in covers/shells to protect your MacBook, please see our Protective MacBook covers and shells article.