By Alvin Alexander. Last updated: March 14 2019
In November, 2018, I received a letter from an entity named Workplace Compliance Services, and the letter was in regards to filing a Colorado "Periodic Report" form. I initially thought the letter was from a government agency, but after research that ended up spanning many days, I learned that Workplace Compliance Services is a private business entity (not a government agency). After that, in an effort to save other people from having to spend the same time and energy to perform that research, I wrote about what I learned on the previous version of this web page.
The short version of that research is that I encourage you to file your own forms. The Periodic Report here in Colorado costs only $10 to file. (You can file it at this URL.) Or, if you don't do it yourself, the only other people I would trust to file that form are your business accountant or lawyer.
Do your own research
I also encourage you to do your own research, such as looking up this company name at your local Better Business Bureau website. If you live in Colorado, here's a link to the BBB entry for "Workplace Compliance Services" in Colorado.
You can also look up the return address included in the package. If the address shows, "18601 Green Valley Ranch Blvd. Ste 108-361,"  this is what Google Maps shows for that address (without the suite) on March 13, 2019: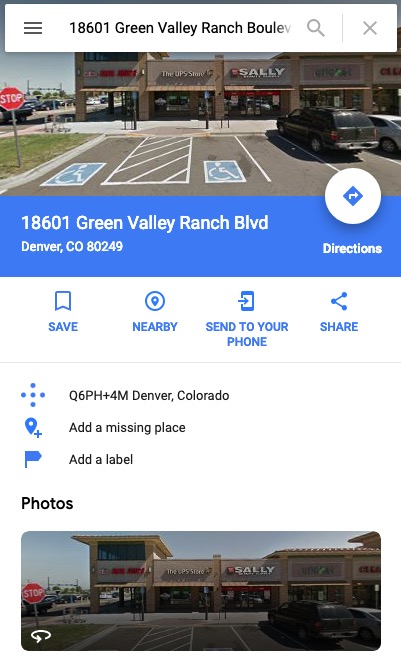 You can look up the address yourself using www.google.com/maps.
I assumed that this letter was only sent to businesses in Colorado, but as of March 1, 2019, over 20,000 people have visited this page, and 86 people left comments about receiving similar letters in Florida, Georgia, New York, and Oregon.
I received a letter from a law firm
On March 11, 2019, I received a letter from a law firm named GreenbergTraurig, stating that they are the legal counsel for a Colorado business named, "ANS, INC. d/b/a Workplace Compliance Services," in regards to the content that was previously on this web page. As a result, I have removed that content until I have a chance to talk to a lawyer.
Also as a result of this, if you have a few free moments I would appreciate your assistance in two matters.
Copies of letters
First, while I have photos of the letter I received from Workplace Compliance Services, I threw out the physical letter after taking those pictures. If you still have your letter from them, I'd appreciate it if you would send photos of your letter and the envelopes that came with it to my email address, alvinjalexanderjr@yahoo.com. I don't want any personal information from you, so please black out anything you don't want me to see. I just think it will help my lawyer(s) to see more samples of these form letters and envelopes. (Or, if you prefer, keep your letters and envelopes, and just send me an email to let me know that you have them. Then you can send them directly to my lawyer later.)
Comments
Second, before you leave, I'd appreciate it if you'd leave a comment in the comment form below to answer this question:
"What made you take the time to use a search engine in regards to the correspondence you received from Workplace Compliance Services?"
I think your comments will help everyone understand why people have come to this web page. (Note that for the time being I have removed the 86 original comments that were left on this web page, though I have retained copies of them.)
Thank you,
Alvin Alexander, Manager
Valley Programming, LLC