By Alvin Alexander. Last updated: June 4, 2016
I began an experiment with the Amazon KDP Select free promotion program today. I just released my new eBook, How I Sold My Business: A Personal Diary, on Monday of this past week, and when I learned about the KDP Select program, I thought I'd give it a try.
I'm not going to describe the KDP program, you can read all about it on the Amazon website. But I thought I'd share what I've learned while using it.
Getting started with the Amazon KDP Select program
Here's a quick summary of how I got started:
I already had an Amazon account, and just used that to join the KDP Select self-publishing program.
I use Mac computers, and after many different efforts, I found the best approach was to write the story using the Mac Pages application, upload it to Amazon in a Word "doc" format, then use the Amazon "Simple Previewer" to make sure the book looked okay. Oddly, their Advanced Previewer didn't show the book properly.
I began running some Google AdWords ads, writing various text ads to promote my eBook.
The KDP Select free promotion program
Once I got the book on the Amazon website and finally decided on a price ($4.99), I chose to participate in the free promotion program this weekend. I followed these steps:
I set the "free" dates up on the Amazon KDP website for March 10 and 11, 2012.
I began promoting the free sale on Wednesday on Twitter, Facebook, and Google Plus.
I changed my Google AdWords ads to let people know the book would be free this weekend.
I wrote about the free book promotion on this site, and on my OneMansAlaska.com and ValleyProgramming.com websites.
I put ads for the free book program on this site as well. (devdaily gets millions of page views, so it can be a nice resource for things like this.)
The Day 1 results
When I woke up this morning at about 10am EST, the free promotion had already begun, and my eBook was #2,600 in the Free Kindle book store, and #17 in the Free Small Business books category. It has bounced around a little during the day, but as I write this blog post at 6pm EST, the book is now #1,673 in the entire Free Kindle book store, and #10 in the Free Small Business category: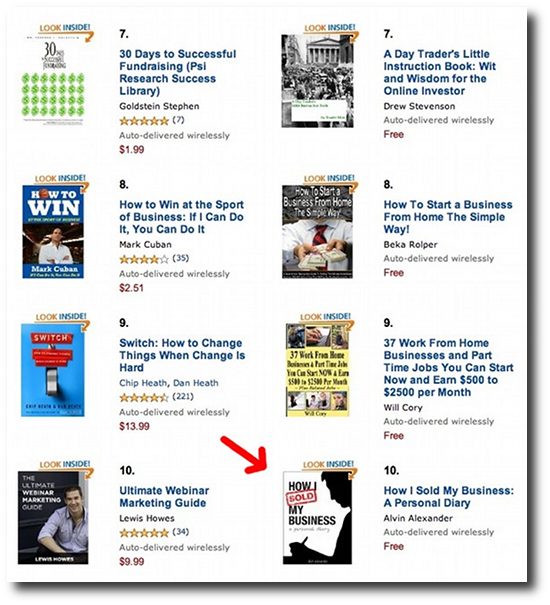 The promotion will run again all day tomorrow, and I'm curious to see how high it can go. Of course I'm also curious to see how this affects sales in the long run. Since I ran this promotion right away I don't have any real sales numbers to work with, but I do know that my eBook was about #250,000 in sales in the Kindle store on Friday, so it can't go anywhere but up.