By Alvin Alexander. Last updated: June 10 2019
Table of Contents1 - A shell script solution2 - A JavaFX GUI3 - Summary
I recently started using AsciiDoc to write a new book. A great thing about it is that unlike Markdown, you can use AsciiDoc to write a book and get all of the features you want in a book, including linking between anything, captions for tables and figures, indexes, etc. Because this got me started using AsciiDoc I thought, "Wouldn't it be nice if I could also use AsciiDoc to write blog posts like this one?"
Sadly, I quickly ran into a problem: I couldn't find a good way to convert AsciiDoc into HTML, or even Markdown. There are tools to convert AsciiDoc to HTML, but for some reason they take the approach of including a ton of markup in the HTML (divs, spans, and attributes), and as far as I can tell there's no way to turn off that markup.
Back to top
A shell script solution
By Alvin Alexander. Last updated: February 16 2019
I have a 19" monitor on the counter between my kitchen and living room, and it's powered by a Raspberry Pi. I use the Linux Phosphor screen saver to show a scrolling "news and stock ticker" on the display, which I've programmed to show news from several different sources (Atom and Rss feeds, along with other news and data sources). An old version of the display looks like this: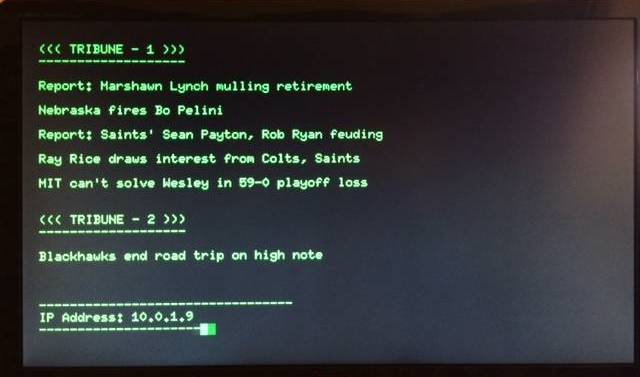 Today I added a new "Word of the day" feature to the display, and as with all of the other code, I wrote a Scala shell script to generate the output.
By Alvin Alexander. Last updated: August 7 2018