By Alvin Alexander. Last updated: May 17, 2019
In November, 2018, I received a letter from an entity named Workplace Compliance Services, and the letter was in regards to filing a Colorado "Periodic Report" form. I initially thought the letter was from a government agency, but after research that ended up spanning many days, I learned that Workplace Compliance Services is a private business entity — not a government agency. After that, in an effort to save other people from having to spend the same time and energy to perform that research, I wrote about what I learned on the previous version of this web page.
The short version of my research is that I encourage you to file your own forms. The Periodic Report here in Colorado costs only $10 to file. (You can file it at this URL.) Or, if you don't do it yourself, the only other people I would trust to file that form are your business accountant or lawyer.
Do your own research
I also encourage you to do your own research, such as looking up this company name at your local Better Business Bureau website. If you live in Colorado, here's a link to the BBB entry for "Workplace Compliance Services" in Colorado.
You can also look up the return address included in the package. If the address shows, "18601 Green Valley Ranch Blvd. Ste 108-361," this is what Google Maps shows for that address (without the suite) on March 13, 2019: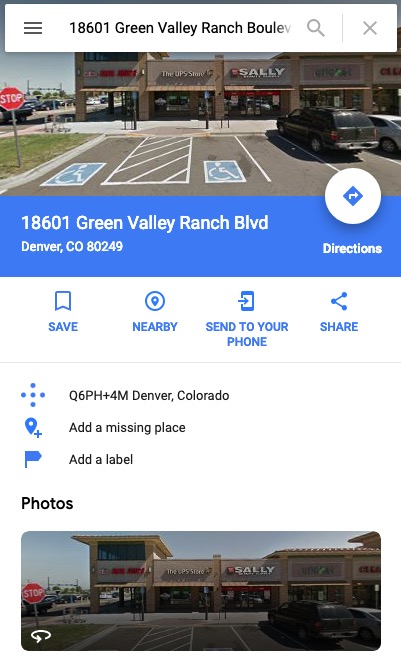 You can look up the address yourself using www.google.com/maps.
I initially assumed that this letter was only sent to businesses in Colorado, but as of March 1, 2019, over 20,000 people have visited this page, and 86 people left comments on a previous version of this page about receiving similar letters in Florida, Georgia, New York, New Jersey, Oregon, and Hawaii.
March, 2019: I received a letter from a law firm
On March 11, 2019, I received a letter from a law firm named GreenbergTraurig, stating that they are the legal counsel for a Colorado business named, "ANS, INC. d/b/a Workplace Compliance Services," in regards to the content that was previously on this web page.
At this point it's worth taking a moment to note that, as that letter shows, Workplace Compliance Services is an assumed name for a company named ANS, Inc. that's based in Michigan. You can see that on this image, which is a partial screen capture from the Colorado Secretary of State "Business Information" website: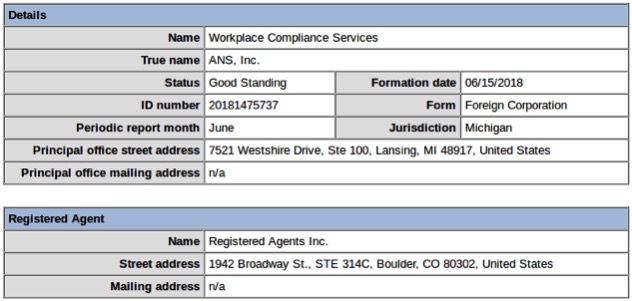 Out of curiosity I found that if you search the Michigan Department of Licensing and Regulatory Affairs, you'll find that ANS, Inc. also goes by these other assumed names:
Assumed Name Services
Business Compliance Services
Florida Assumed Name Services
Florida Fictitious Name Publishing
Mail Processing Cetner (note the misspelling)
National Passport Express
As a result of receiving that letter, I revised the content on this web page to what you see now. I believe everything here is factual information which can easily be found on the internet.
Comments (update)
I want to thank everyone for adding your comments here. I'm glad if we're all able to help each other.
I also want to note that there are many other comments that I haven't approved, as shown in this image: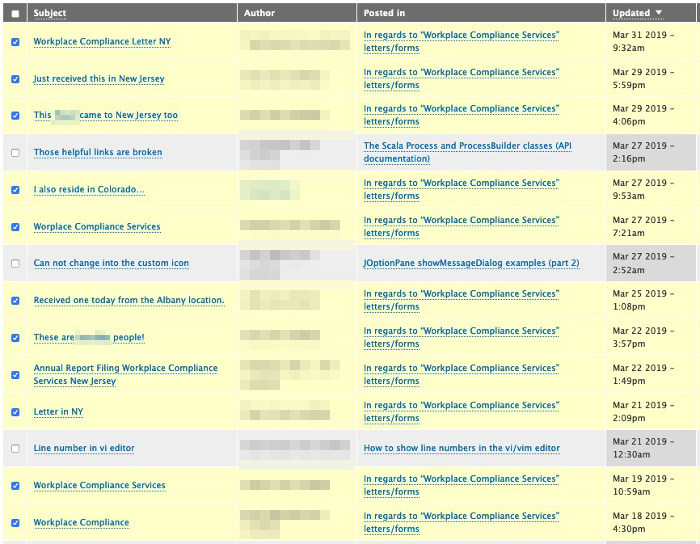 I haven't approved those comments that are shown in the yellow lines yet because they use words that resulted in the lawyer at GreenbergTraurig sending me their letter, but I want to let these people know that I have seen your comments, and I appreciate them as well!
Thank you,
Alvin Alexander, Manager
Valley Programming, LLC