By Alvin Alexander. Last updated: April 21 2018
I'm glad to announce that the final version of my new book, Functional Programming, Simplified (Scala Edition) is now available in three formats:
PDF format, $25 on Gumroad.com

If you like eBooks, the PDF is probably the best version of the book because I can control the formatting, and it contains all of the lessons

Paperback book, $39.99 on Amazon.com
Kindle eBook, $29.99 on Amazon.com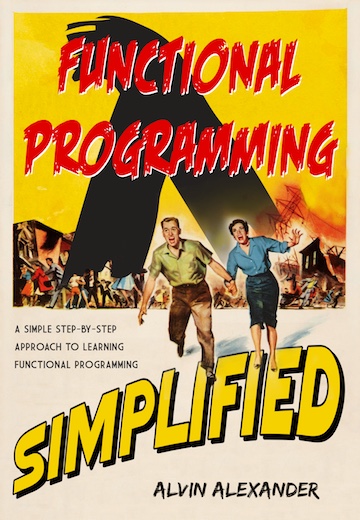 As the name implies, the goal of this book is to make it easier to understanding functional programming, specifically functional programming in Scala.
Notes about the paperback version
The paperback version is currently on sale for $39.99.
Please note that because of size considerations, I had to omit a handful of lessons from the paperback version of the book. The following chapters are not in the paperback:
Grandma's Cookies (a story about pure functions)
The appendices
Because those lessons aren't in the paperback version, I've made them freely available on this website.
Table of contents
The electronic versions of the book contain 130 short chapters, so it's not feasible to show the whole table of contents here. However, you can see the full table of contents in the free preview of the Kindle version.
Free previews
If you'd like to preview the book before buying it, you can choose from these options:
Dedicated page for updates
I've also created this dedicated web page where I'll provide updates to the book. That page will contain links to those lessons, corrections/errata, and links to new FP projects and other resources I create.
One more thing
I'm glad to say this:
2% of the profits from the book will be donated to The Scala Center.
This is a small way to "pay it forward," and show my gratitude to the creators of the Scala language and the Scala community.
This website is a little one-man operation. If you found this information helpful, I'd appreciate it if you would share it.