By Alvin Alexander. Last updated: March 14, 2018
I like the "Google" app on Android — the thing you see if you swipe right on the Android home screen. But a weakness of it is that you can't get back to a story easily. For instance, this morning I followed a Google Now card to see a story about Tom Ricketts and the Cubs, closed the story, then thought, "Wait, I meant to look at XYZ in that web page." Once you close a story like this the Now card disappears, and you can't get back to it easily (which is the weakness).
Solution 1: Going back to Google Now app stories on Android 7
I don't know if this is the only way to do it, but as a solution, one way to get back to the story on Android 7 is to follow these steps:
Go to the Google app home screen (if you aren't there already).
Tap the "sandwich" icon in the upper-left corner, i.e., the icon that looks like three lines stacked on each other.
Tap Settings.
Tap Accounts & Privacy.
On that panel, tap Google Activity Controls.
On the following screen, tap Web & App Activity.
On the next screen, tap Manage Activity.
When this screen shows up, it will show a list of everything you visited via the Google app, i.e., Google Now.
Note: I open "Now" stories in the Google app
You may have noticed under the "Accounts & Privacy" settings that there are two ways to open stories: either in the Google app, or in a web browser. My setting is set to, "Open web pages in app," so this approach may only work with that setting, though I suspect it also works if you (a) use the opposite setting, (b) you use Chrome as your browser, and (c) you're logged into your Google account.
Solution 2: Visit Google's "My Activity" website
Another solution is to visit Google's My Activity website. When I go to my computer and log into that website, I see my Android Google Now history, which looks like this right now: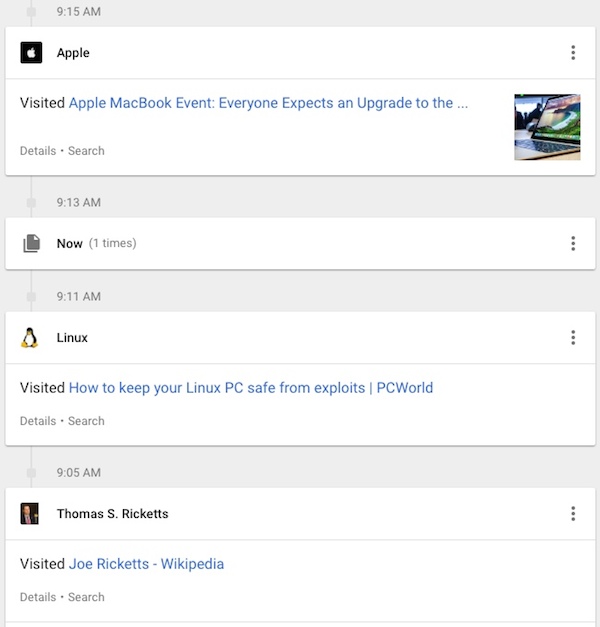 The good news is that all of your history for visiting Google websites — including Google searches and YouTube visits — is at this website. (A second piece of good news is that you can also delete/manage your history here as well.)
The only bad thing is that these are the easiest ways I can find to revisit Google Now stories that you've read on your Android devices. If I find other ways to do this I'll update this article, but until then, I hope these solutions are helpful.