By Alvin Alexander. Last updated: June 21, 2020
iPhone/iOS apps FAQ: How do I move iPhone apps or app icons? (Related: How do I move iPod or iPad app icons?)
Way back when I first started using an iPhone, I learned (by accident) how to move iPhone apps (applications) from one place to another on the iPhone screen. And while this tutorial shows an older iOS image, the technique works on all iOS versions, including iOS 12, which is the current version in 2019.
How to move iPhone apps (iPhone app icons)
To move iPhone app icons, just press and hold one of the iPhone app icons until all the icons on screen appear to get very nervous and start wiggling around (shaking in place). You just have to press down on the app icon for about a second for this to start, and believe me, you'll recognize this behavior when you see it.
Once all the iPhone app icons start shaking, you can move an app icon by pressing it and dragging it to a new location. You can even move iPhone apps from the first screen over to the second screen, and vice versa. As you start to move an iPhone app, you'll see the other iPhone app icons move to get out of its way, which is pretty entertaining.
Without creating a video I can't show how the app icons actually shake or move in place, but hopefully this image will give you a little idea of how the iPhone screen changes after you press an app icon for a second or more: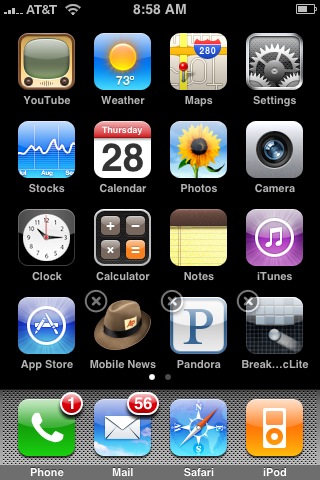 In particular you'll see the "X" in the upper-left corner of the icons that can be deleted at this time. When the iPhone is in this state you can move the iPhone app icons around as desired.
Dragging/moving iPhone apps (and iPod or iPad app icons)
As you move your app icon around, you'll see all the other applications move around and try to get out of your way. This is actually a fun thing to do just for the sake of goofing around. Of course after you finish goofing around you then realize that you need to plan out your moves ahead of time, but it's still fun.
When you're finished moving your iPhone apps around, just press the round "Home" button at the bottom of the iPhone, and your application icons will quit wiggling, and you'll be back in the "normal" user mode.
(You can also move iPhone/iPad app icons in iTunes when your iPhone or iPad is connected to iTunes, but the process is essentially the same.)
I hope this tip on how to move iPhone apps (iPhone app icons) has been helpful. As mentioned above, because the iPhone, iPod, and iPad all use the iOS operating system, this same technique also lets you move iPod app icons, and also move iPad app icons.