By Alvin Alexander. Last updated: October 2, 2016
My old iPad 2 was, well, old, and it's slow speed was driving me crazy. So I decided to buy a new tablet, but when I made that decision I also decided to look around, and in short, I eventually decided to buy a Google Nexus 9. After a few days with it, here's my review of the Nexus 9. (Skip to the Summary at the end if you just want to know my rating.)
The Nexus 9 unboxing experience
Apple users like to write about the "unboxing" experience, but the Nexus 9 unboxing experience was a non-experience. The Nexus 9 comes in a simple box, and there's nothing special about any part of the process.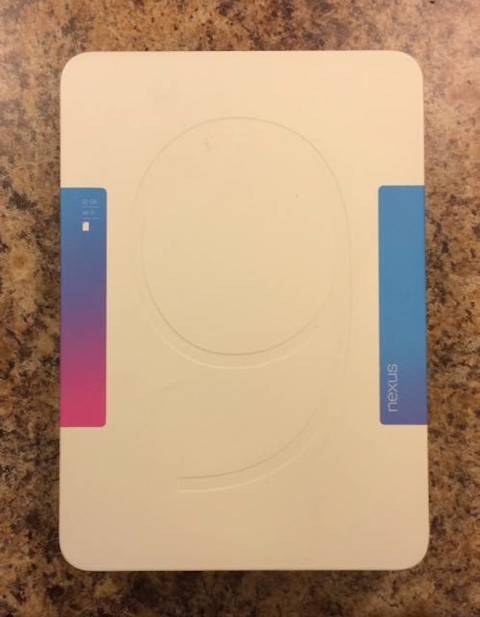 Black is the new white
There was one initial shock: "White" is apparently black. I ordered a white Nexus 9, but when I received mine I saw that the front of it was black. I started to put everything back in the box so I could return it, and then noticed that the outside of the box said this really was a white Nexus 9. I checked the serial number on the outside of the box and on the back of the Nexus, and they matched. Hmmm.
Cutting to the chase, I checked Google's images online, and sure enough, the "white" refers only to the back of the Nexus 9. The front of all Nexus 9 devices are black. That was disappointing because I really like my white iPad, but I took everything out of the box and began charging the device.
It's important to note that the Nexus 9 comes with almost zero documentation. That's okay for me, but for a non-techie, that has to be bad. I also wish there was some documentation that says, "Here is how you can use your iTunes music on an Android device."
Updates
I haven't had time to update this article, so after a few weeks with the Nexus 9 I'll add these comments:
I did something to make the Nexus 9 battery life better. It lasts much longer now than it did initially. But I changed so many settings, I don't know what settings change(s) fixed the problem.
Double-tapping the display to wake it up might be the best feature about the Nexus 9. When I use the old iPad I miss not having that feature.
The good
Here's what I've found to be good about the Nexus 9:
System performance/speed is good. This is the main reason I replaced my old iPad, and the Nexus 9 doesn't disappoint. I've used it with several apps open at a time and I can only recall feeling a slight "thud" in performance one time.
As UI design goes, I like Android 5. It's not as polished as iOS, but it's much smoother than earlier versions of Android.
The Nexus 9 is plastic, but it doesn't feel too cheap, and it feels lighter and easier to carry than my iPad 2.
The back of the device is slightly curved, making it easy to pick up.
I'm not an expert, but the display colors seem good and bright.
I don't listen to music very loud, but the sound seems good.
All of the applications I use (see the list below) are well-implemented on Android 5.
The way you can scroll through open apps like a rolodex is very clever.
The ability to wake the Nexus 9 by double-tapping the display is great, and makes me want to scream at the power button designer a little less. (More on this shortly.)
Being able to use "speech to text" input in all text areas is nice (if only in theory). I hate typing on tablets and phones, so being able to dictate email is great.
It's much easier on the Android 5 keyboard to tell when you are capitalizing text. (This should be a trivial matter, but the iOS keyboard UI is really poorly designed.)
The bad
The Nexus 9 also has its weak points:
The Nexus 9 power and volume buttons are very shallow and they're on a curved area on the right-hand side of the device, so it's hard to find them, let alone control them. This is easily the most annoying feature about the device. (The "tap to wake" feature is good, but you still need to find the little power button to turn the device off.)
The display's "automatic dimming" feature is way too sensitive to be useful. The display constantly changes brightness when you try reading in a dim room at night.
You have to turn off the "Haptic feedback" (vibrate) feature in at least two settings areas, and even then apps seem to be able to override my "off" setting, which is annoying.
The camera is nothing special, and in fact, it's very slow to take a photo. After you press the "take a picture" icon, it can be several second before the camera focuses and actually takes the photo, which can be quite a surprise. (That being said, I didn't buy this device to take photos.)
Taking a screenshot is cumbersome. You have to press the teeny weeny little power and volume buttons simultaneously, and if you don't press them just right you won't get a screenshot. In order to do this, I have to hold one edge of the Nexus 9 against my chest.
The screenshot quality is poor. Without digging into this, I'll just say that the screenshot you get looks like a poor copy of the actual on-screen image.
The Nexus 9 seems to be slow to charge. I'm pretty sure my iPad 2 charges faster than the Nexus 9, but I haven't done a performance test yet.
The battery life doesn't seem to be as good as the iPad, though I need to use it longer to be sure.
I miss having a "Home" button. That little button gave you context at a glance or at a touch as to the orientation of the device.
I miss the iOS feature where you can tab the top of an app and automatically be taken to the top of whatever content you're looking at (a Twitter feed, the top of a browser page, etc.). That's a small but very useful feature.
I need to find a way to get my music from iTunes onto the Nexus 9, and I don't like the Google Play Music "cloud" philosophy.
I got the Nexus 9 for $50 less than the current price. I didn't realize the price was fluctuating, I thought it had gone done, so I initially listed this as a good thing, but it has gone back up since I bought mine, so I moved this to the "bad" list.
Experienced Android users seem to be disappointed that there's no MicroSD slot in the Nexus 9, but since I never had that feature before, I can't miss it.
The mix of good and bad
Some Nexus 9 features are a mix of good and bad:
While Android 5 is very nice and has some great features, it's still not as smooth and polished as iOS. For instance, the transitions from screen to screen sometimes happen a little too fast, so they can be shocking rather than pleasing. Another "unpolished" example is that the Calendar app icon always shows "31", though I'm writing this post on the 21st day of January. Little touches like showing today's date on the Calendar app icon make iOS feel more polished.
It's great that you can customize the Nexus 9, but you can spend a lot of time doing that, and as I noted above, at least one app was able to override my Haptic Feedback setting, which is annoying.
The smaller form factor is a mix. In general the device is easier to hold than the iPad, but you also get a smaller screen size when it's time to turn on Netflix.
The idea of using a "nugget" widget to position the cursor when editing text is a good idea -- better than the iOS approach -- but it's hard to position the nugget properly.
The apps I use
I use the following apps, and all of them work well on Android 5:
Gmail
Yahoo Mail
Twitter
Flipboard
Prismatic
Amazon Kindle Reader
Netflix
Spotify
Pandora
A couple of weather apps
Google Maps
In addition to these, the following Google/Android apps were a pleasant surprise:
Keep, a note-taking app that looks like Post-It Notes
News and Weather
One app people might miss when making the switch is iMessage. I use that on my iPhone all the time, but didn't use it on my iPad, so it's not a big deal for me.
As mentioned, I don't like the Google Play Music "cloud" approach, so I also need to find an app to play music that integrates well with iTunes. I'll probably give DoubleTwist a try the next time I have some free time. (Update: It looks like Google's Play Music app may work with MP3s stored locally; I need to learn more about this.)
What I miss about the iPad
I definitely miss several things about the iPad:
The Nexus 9 display is nice, but the iPad display is better.
I don't have my music situation resolved yet, so I miss that.
I miss the "Reader" view that is so easy to use in the iOS Safari browser.
I take a fair amount of screenshots, maybe a few each week, and as mentioned, this is hard to do on the Nexus 9 and the screenshot quality is poor.
I didn't have Siri on my old iPad, but Siri's speech-to-text dictation on my iPhone is more accurate than the Nexus/Android software, at least for me.
What I've gained by using the Nexus 9
At the moment, the only gain I can think of is that the "tap to wake" feature of the Nexus 9 is nice. Of course it's also faster than my five year old iPad at many things, but I expected/hoped for that going in. (I should note that I don't use Google Now; there may be some things there that I'm missing.)
A note about privacy
It's important to note that privacy can be an important factor when choosing Android. Since you're always signed into Google it can feel like Big Brother is tracking your every move. Frankly, this concern has kept me away from using Android devices for a long time. I thought about this quite a bit before buying the Nexus 9, and finally decided that I don't use a tablet often enough for this to be a major concern to me. I mostly check my email, read news on Flipboard and Prismatic, use the Kindle app, check the weather once or twice a day, and watch shows on Netflix.
Summary: The score
At this point I give the Nexus 9 a "B" grade, something like an 85 or so.
The system performs well, the display and sound are decent, apps are solid, and some features like "tap to wake" are an improvement over the iPad, but I can't get past the annoyingly small power and volume buttons.
Not having a simple way to get my MP3 files into a music player app that plays songs from local storage is also a weakness. For example, because of this, I can't recommend the Nexus 9 to non-techie friends. It looks like Google Play Music may be able to play my MP3s if I use Android File Transfer -- or maybe it works some other way -- but until I figure that out, this is a real negative.