By Alvin Alexander. Last updated: June 4, 2016
After seeing an ad for a wireless iPhone charging device recently, I thought I'd dig around and see what I could find out about iPhone wireless charging devices. After a little research, it looks like there are two good options, the AirVolt Wireless iPhone Charger, and the Powermat system. There is a third wireless iPhone charger available from Brookstone, but I'm not impressed by it, though I've shared a few details on it below.
(I also offer my usual caveat: In the interest of full disclosure, devdaily.com is a thinkgeek.com affiliate. That being said, I happen to think the ThinkGeek site has some very cool electronic devices, so I don't see this as much of a problem.)
The AirVolt Wireless iPhone charger
The AirVolt Wireless iPhone charger is a good looking wireless charging device. Here are several images from their product page: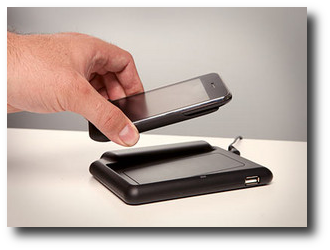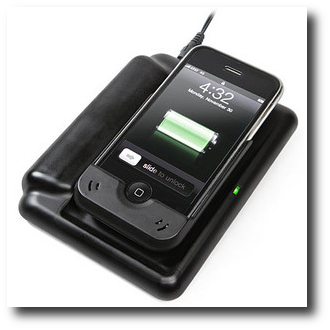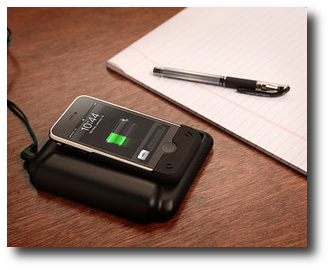 Here are some notes from AirVolt Wireless iPhone charger product page on the ThinkGeek website:
Simply slide your phone into the included receiver case, place it on the power tray, and watch in amazement as your phone charges wirelessly via induction. It works just as quickly as a standard charger and automatically powers off once your phone is completely charged. And the best part? It's half the price of other wireless phone chargers.
And a few more bullet points about the AirVolt system:
Compatible with iPhone 3G/3GS
Charges as fast as a standard charger
Works via induction - Tesla would be so proud of us
Automatic power-off
Built-in extra USB power port
Dimensions: 5.5" x 4.5" (14 x 11.5cm)
A/C Power: 100-240VAC, 50/60Hz, .5A (Input); 9VDC, 1A (Output)
Includes: charging tray, receiver, A/C power supply, instructions
The AirVolt seems to add a little thickness to the iPhone depth, but from what I can see, their design looks okay. Here's a link to the AirVolt Wireless iPhone charger
page on the ThinkGeek website, where it is currently priced at $49.99.
The Powermat wireless iPhone charging system
I first ran across the Powermat wireless iPhone charger over the 2009 holiday season. I remember thinking that it looked like a very interesting wireless iPhone charger, but at the time I thought it was a little bulky. I like the feel of the iPhone without any cases or covers, so I was concerned the Powermat attachments might mike the iPhone feel too bulky.
Here are a couple of images of the Powermat wireless iPhone charging system: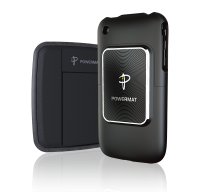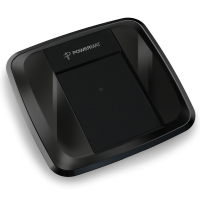 Here are a few notes on what comes in the box with the Powermat iPhone wireless charging system:
Receiver Case for iPhone 3G/3GS
Powermat 1XA Charging Mat
Micro USB to USB data cable
Universal, international power supply (Energy Star level 5, 100-240V) with built-in cord management
If you don't like the Powermat 1XA charging mat you can buy a Home and Office Mat or a Portable Mat, but they are $99.99, and at that point you're paying more for the Powermat wireless charging system than you paid for your iPhone.
Here's a link to the Powermat charging system, currently priced at $69.99 (with the other accessories costing more).
The Brookstone iPhone wireless induction charger
I'm not terribly impressed by the Brookstone PowerPlate Wireless Induction Charger for iPhone, but I thought I should mention it here. Their web page just isn't very impressive, the product doesn't look like much, and comments like these are scary:
Wireless induction charging works great, BUT, the base makes a buzzing and sizzling sound when the iPhone is on the plate during charging ... Due to the contact square built inside the iPhone case, the case itself is a bit bulky and heavy ... The manual says you can you use the iPhone case on a daily basis, but I found that it is not practical for being in your pocket ... It also does not expose the socket to allow iTunes syncing or regular charging using the USB cable. You would need to remove the case in order to sync to iTunes and USB charging.
All those factors, plus the $99.95 cost, means I won't be looking at this product any time soon.
iPhone wireless chargers - summary
I hope this information on the iPhone wireless chargers has been helpful. As mentioned, if I decide to buy one, I'll either go with the AirVolt or the Powermat.