By Alvin Alexander. Last updated: June 4, 2016
Mac iPhone photos download FAQ: How do I download iPhone photos to my Mac? I assumed I could import them with iTunes, but I can't seem to do anything with them from iTunes.
I used to have my iPhone synced to a Windows PC, and a while back I wrote about how to download iPhone photos to a Windows PC. But a couple of months ago when I switched my iPhone to sync with my iMac I assumed I'd be able to easily download my iPhone photos to my Mac using iTunes. Turns out that still doesn't work. (And the question to Apple is "Why not?")
The short story is that while iTunes syncs everything else, it's not what you use to download iPhone photos to a Mac. Instead, here's how you do it.
How to download iPhone photos to a Mac
To download iPhone photos to your Mac:
Connect your iPhone to your Mac (iMac, MacBook, whatever).
Wait for the iTunes sync process to finish.
Start the Mac "Image Capture" application. (This is a Mac app in the Applications folder.)
Choose a folder where you want your iPhone photos downloaded.
Click the "Import All" button to import all your iPhone photos, or select the iPhone photos you want to import and then click "Import" to download only those iPhone photos.
This image shows what the Image Capture application looks like on my Mac OS X 10.6 system when it first starts up: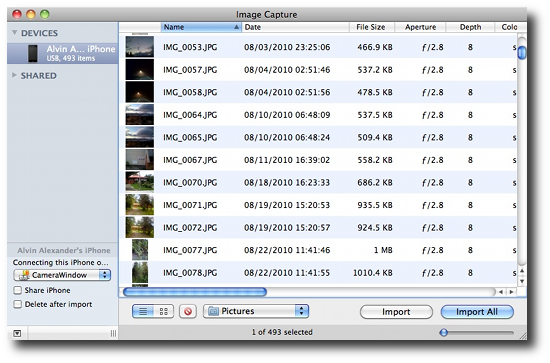 If you want to select a new folder, just click the dropdown list that defaults to "Pictures", and then select the "Other..." option at the bottom of that list. That brings up a Mac Finder window that lets you choose another folder where you can save your imported iPhone photos.
Other Mac iPhone photos import options
If you take a few moments to look around the Mac Image Capture application, you'll see you can do several other things with your Mac iPhone photos, including:
Delete one or more iPhone photos. (Click the icon of a red circle with a slash through it.)
Tell your system what Mac app to open when you connect your iPhone.
You can share your iPhone. (I haven't tried that yet, but I assume it means you can share your iPhone photos.)
Import your iPhone photos to iPhoto, Preview, and Mail.
Build a web page or make a PDF.
Those last two options are available under the "Pictures" dropdown list.
How to download Mac iPhone photos - Summary
I hope this tip on how to download iPhone photos to your Mac has been helpful. Just remember to start the Image Capture application, and not only can you import your iPhone photos to your Mac, but you can also share them, delete them, or use the other options I listed.